Spain's withdrawal of an international arrest warrant for a former Catalan politician fighting extradition from the UK has been described by her legal team as a "tremendous victory".
Professor Clara Ponsati, a St Andrews University academic, was arrested in March after handing herself in to police in Scotland.
It came after she was made the subject of a European Arrest Warrant, with the authorities in Madrid seeking her on charges of violent rebellion and misappropriation of public funds over her role in Catalonia's controversial independence referendum in 2017.
A full extradition hearing lasting four weeks was set to get under way in Edinburgh at the end of this month.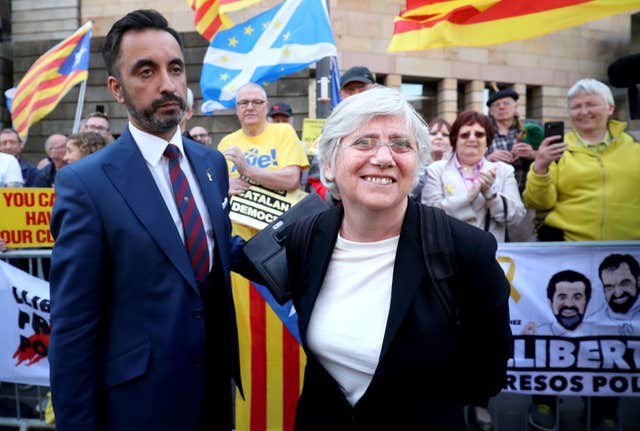 He also rescinded warrants for five other politicians who were wanted for their roles in promoting the Catalonia region's independence, including former regional president Carles Puigdemont.
Responding to the decision, Prof Ponsati's solicitor Aamer Anwar said: "From the very beginning Clara Ponsati utterly refuted the charges she faced and Spain was accused of abusing the European Arrest Warrant for politically motivated prosecutions.
"So today's withdrawal of all the European Arrest Warrants by the Spanish Supreme Court is a tremendous victory for the Catalan politicians and people."
Mr Anwar stated that they are still awaiting official confirmation from Spain and cautioned that national warrants do remain in place.
"Clara and others have not had their national warrants withdrawn, thus making Clara a political exile which means if she were to return home she would be arrested," he said in a statement issued on the academic's behalf.
"We also await to see the next step of the Spanish authorities as they could still reissue revised European Arrest warrants although this would clearly be a further example of an abuse of the treaty."
The academic is now expected to attend Edinburgh Sheriff Court on Monday for a hearing in the wake of the decision.
Prof Ponsati has consistently denied the charges against her and several procedural hearings in her battle against extradition have already taken place before a sheriff.
It emerged earlier this month that she faced the equivalent charge of treason in Scots law.
Her legal team warned she could face a total sentence of up to 33 years if she was sent back to Spain and convicted, sparking fears she could spend the rest of her life in jail.
Lawyers recently told a court they were looking at whether to call former Spanish government ministers to the witness box as part of the legal fight.
They were preparing to argue that the European Arrest Warrant was invalid, that the Spanish government could not comply with the relevant legal requirements, that the prosecution was essentially political in nature and that to return Prof Ponsati to Spain would be incompatible with her human rights.
On Thursday, Spanish judge Pablo Llarena withdrew the extradition requests after a German court ruled last week that Mr Puigdemont could not be sent back to Spain for rebellion, only for embezzlement connected to the alleged misuse of public funds for a referendum on secession.
First Minister Nicola Sturgeon tweeted that it was "very good news" that extradition proceedings have apparently been dropped against the academic.
The SNP leader said: "Political differences should be pursued democratically not through criminal courts. Let's hope she is now allowed to get on with her life – and being the credit to Scotland that she is."
A Scottish Government spokesman said: "We hope that whatever the reasons for this decision, it paves the way for the Catalan and Spanish governments to resolve their differences by mutually agreed democratic means.
 
"Prof Ponsati has contributed to Scotland through her work at St Andrews University and is very welcome in Scotland for as long as she chooses to stay."
A University of St Andrews spokeswoman said: "We are delighted for Clara, but will obviously monitor closely the further implications of the decision in Spain."
Mr Anwar added: "Clara would like me to thank the people of Scotland, the UK, her fellow Catalans and Europeans as well as the SNP, the Green Party, the STUC and Scottish Government for their tremendous support for her and the Catalan people. Their solidarity will never be forgotten."