Two 15-year-old boys who plotted to gun down innocent classmates in a replica version of the 1999 Columbine massacre have been given 10 and 12-year custodial sentences.
The would-be murderers were said to have "hero-worshipped" Dylan Klebold and Eric Harris, the teenagers who took up arms and killed 13 people at the Columbine High School in Colorado before taking their own lives.
The two boys, who were just 14 at the time of the plotting, were so serious about carrying out their own version of the attack at their school in Northallerton, North Yorkshire, that they had drawn up a "hit-list" of targets – which included students who had bullied and wronged them, as well as teachers.
During their trial, prosecutors told how conversations about the plan went beyond the realms of fantasy, as the teenagers downloaded bomb-making manuals, researched weapons online and warned friends about what was to come.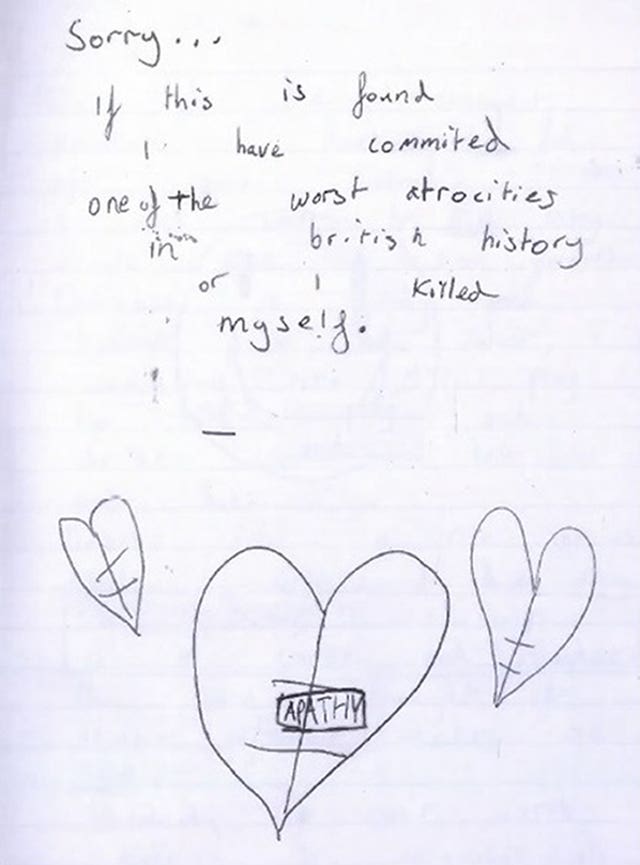 The inside cover of the book, which was recovered from the teenager's home in October 2017, apologises for either committing "one of the worst atrocities in British history" or killing himself.
The journal also features a page of "stuff we need" to execute the plan, including napalm, firearms and pipe bombs.
In a secret hideout in Catterick Garrison, the same boy had kept a rucksack filled with screws, boards and flammable liquid, which prosecutors suggested were instruments for making an explosive device which was to be part of the killing.
Prosecutors told how the boy had also warned his then-girlfriend that he wanted to murder her parents, so that he could run away with her and become a "natural born killer".
In evidence, the girl's mother said: "He's devious and primitive and had quite a lot of power and control over what, at the time, was our vulnerable daughter."
He and his co-defendant were interviewed by police after the younger of the pair, who had suffered bullying at school, messaged a female friend in September 2017 to tell her about the plan.
When she asked if he was joking, he responded: "No. No-one innocent will die. We promise."
The next day, the same boy made "clear and unvarnished confessions" to a teacher and to police officers, claiming that his targets were "infecting the gene pool" and that he and his friend were doing a "service to society".
Both were interviewed by North Yorkshire Police, who later accepted that they "did not meet those standards that are expected" in the way they dealt with the boys.
Leeds Crown Court heard how the older defendant had started researching the Columbine massacre again within minutes of the officers leaving, despite having denied plans for the attack.
He was eventually arrested after his hideout was discovered by officers on October 22 2017, with the younger boy voluntarily attending a police station with his mother three days later.
They both stood trial, but were found guilty of conspiracy to murder by a jury in May, with the older boy additionally being convicted of unlawful wounding.
The older boy was given a 12-year custodial sentence at Leeds Crown Court on Friday, while the younger was given 10 years.