Shadow chancellor John McDonnell has called for a swift and amicable resolution to disciplinary measures being taken against a senior Labour MP who accused Jeremy Corbyn of racism and anti-Semitism.
Mr McDonnell blamed Margaret Hodge's "haranguing" of the Labour leader on her "complete misunderstanding" of the party's new code of conduct on anti-Semitism, which has been widely criticised in the Jewish community.
Dame Margaret – who is herself Jewish and lost relatives in the Holocaust – has said she stands by her comments, though she denies swearing at Mr Corbyn in an angry confrontation in a Commons corridor last week.
Labour's general secretary, Jennie Formby, has written to the MP telling her she faces investigation for "abusive conduct" and that "any further behaviour of a similar nature" could result in disciplinary action.
Mr McDonnell told BBC Radio 4's Today programme that Dame Margaret's outburst was "out of character" and she was "extremely angry and lost her cool" when she confronted Mr Corbyn.
"Of course he was upset, I think Margaret was upset as well," said the shadow chancellor.
"Jeremy was deeply upset because, when you have someone haranguing you in that way, of course it's upsetting. Those sorts of accusations, when he has worked so hard on the issues of anti-Semitism and anti-racism, of course he's upset."
Mr McDonnell said later interviews had shown that Dame Margaret's concern was based on a misunderstanding of the code agreed by Labour's ruling National Executive Committee.
"I realised there was a complete misinterpretation of the code, so I can understand why she was so angry if that's what she believed this code had done," he said.
"I think it's a complete misunderstanding and we can resolve this amicably and move on."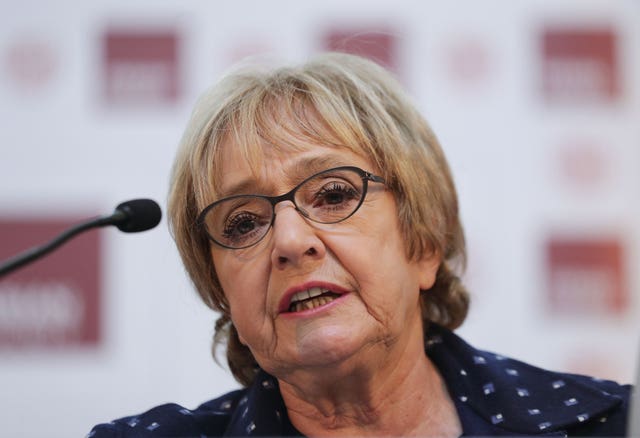 "At the weekend I spoke to Jeremy and said we've got to resolve this matter quickly," said Mr McDonnell. "He said, yes, we've got to do that, and he's asked the chief whip and general secretary to try to sort this out.
"We want it resolved amicably and I think that can be done."
He insisted that neither he nor Mr Corbyn could get involved in the disciplinary process overseen by Ms Formby and chief whip Nick Brown.
And he said he did not know who had initially reported Dame Margaret's behaviour, saying only that "a range of complaints came in".
Labour's shadow defence secretary Nia Griffith said it was not normal for disciplinary procedures to be activated over disagreements over policy.
In a clear indication that she felt Dame Margaret was within her rights to raise her concerns as she did, Ms Griffith told Radio 4's Political Thinking with Nick Robinson podcast: "If she wants to have a very clear word with Jeremy that's entirely up to her."
And she added: "I'm not aware of any processes by which because somebody speaks to somebody else 'in a particular way' we've had disciplinary procedures.
"Normally if we're speaking about policy, if we're talking about issues, we can have those discussions.
"I just can't see a situation where we discipline people for speaking their minds to each other, whether its members of the shadow cabinet or the leader of the opposition himself."
Labour MPs agreed on Monday to stage a vote in September on whether to accept the new code, which has come under fire because its list of anti-Semitic behaviours omits a number of examples included by the International Holocaust Remembrance Alliance (IHRA).
The party insists that the examples, mostly relating to criticism of the state of Israel, are dealt with elsewhere in the document.
Mr McDonnell said it would be "mistaken" to think that Mr Corbyn's long association with pro-Palestinian campaigns should raise questions about his commitment to fighting anti-Semitism.
After initially stumbling over his words and describing Labour as "a party that is anti-racist and anti-Semitist", he told Today: "We are are against anti-Semitism, we are a party that attacks anti-Semitism wherever it is, either in our party or in our community.
"We are going to tackle this and we will lead that campaign to ensure that Jewish people are respected and feel safe within our community.
"Jeremy is as committed to that as anyone else within our party and anyone else within our community."
The UK's three main Jewish papers – the Jewish Chronicle, Jewish News and Jewish Telegraph – all carried the same front page article under the headline "United we stand".
They claimed a government led by Mr Corbyn would pose an "existential threat to Jewish life in this country".
It said Labour had the choice of accepting the IHRA definition and examples in full or "be seen by all decent people as a racist, anti-Semitic party".
A Labour Party spokesman said: "Jeremy Corbyn and the Labour Party are fully committed to the support, defence and celebration of the Jewish community and its organisations.
"The next Labour government poses no threat of any kind whatsoever to Jewish people."
The spokesman acknowledged the "strong concerns raised in the Jewish community" and said Labour "knows there is a huge amount of work to do" to build trust and confidence.
The party said it had "concerns about one half of one of the IHRA's 11 examples, which could be used to deny Palestinians, including Palestinian citizens of Israel and their supporters, their rights and freedoms to describe the discrimination and injustices they face in the language they deem appropriate".