The heatwave is causing havoc in Britain with people getting into difficulty in rivers and holidaymakers facing travel disruption.
The most intense conditions are perhaps yet to come with forecasted highs of 37C (98.6F) and potential thunderstorms.
Thames Valley Police said a man's body was recovered from the Jubilee River in Slough, adding that his death is not being treated as suspicious.
Warwickshire Police officers remain at the Bishops Bowl Lakes area in Bishops Itchington following a report of a 17-year-old boy going into the water on Thursday evening.
Police were called at around 6.30pm after concerns were raised for the boy, and specialist water rescue teams, as well as fire and ambulance crews, are in the area with searches being carried out.
Essex Police said the search for a teenager who was last seen in water near Clacton Pier on Thursday evening resumed on Friday morning.
The force was called amid concerns for the welfare of two teenage boys and were on the scene just after 6.35pm.
One boy was rescued by a lifeboat crew, checked over by medical teams and reunited with his family, but the second remains unaccounted for.
Meanwhile, cross-Channel rail operator Eurotunnel has cancelled thousands of tickets after "extreme temperatures" caused major disruption to services.
It is one of the busiest weeks of the year for cross-Channel travel as the start of many school summer holidays leads to a surge in family trips.
The firm took the "unprecedented decision" to stop passengers from travelling on Friday if they were due to return on the same day or Saturday in a bid to ease long queues.
Passengers faced delays of up to six-and-a-half hours on Thursday when air-conditioning units failed on trains.
And as of Friday morning, the operator was still warning of delays.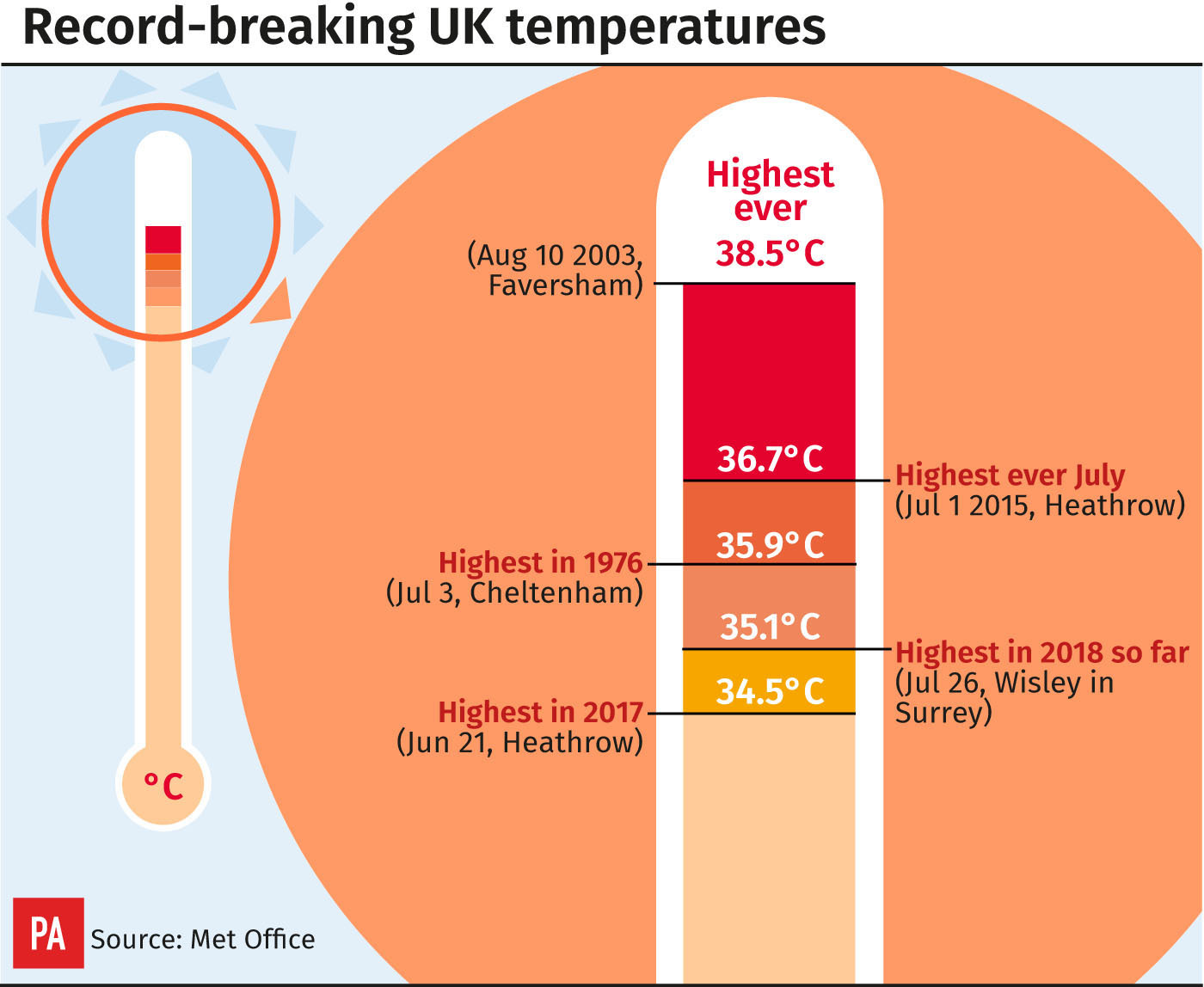 Temperatures are forecast to be in the mid-30s for much of east and south-east England, reaching 37C in London, and could rise higher still if there is a lot of sunshine, Met Office meteorologist Alex Deakin said.
There is a chance the all-time UK record of 38.5C (101.3F) could be broken, with the hot weather set to continue into August.
Mr Deakin said: "The reason there's some uncertainty is because of the thunderstorms, how many we see and where they get going… torrential rain, the risk of local flooding, large hailstones potentially damaging, lots of flashes of lighting and rumbles of thunder.
"Roads like the M11, M18, M1 and A1 won't be very pleasant, a lot of spray and surface water around."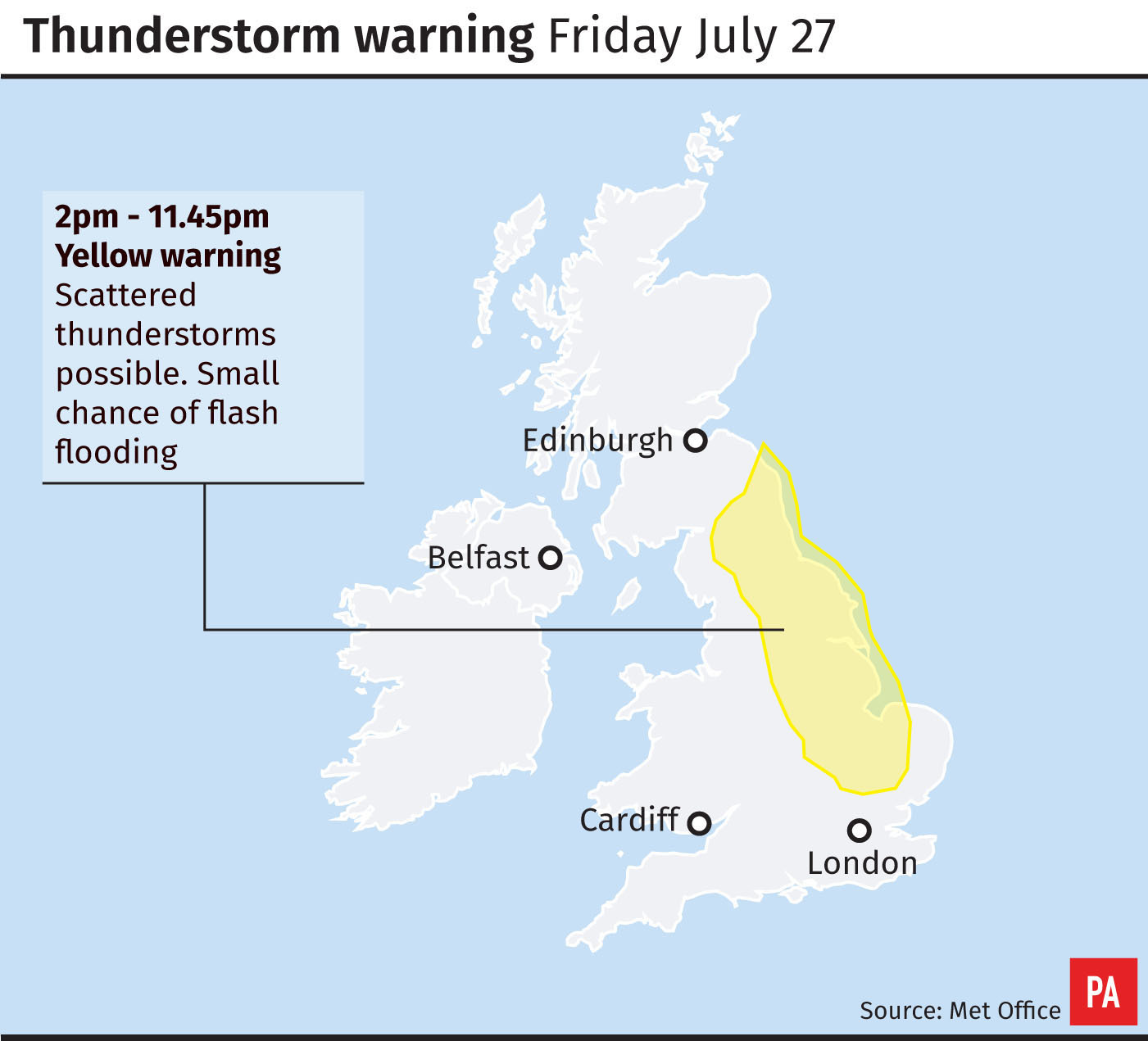 A mix of toxic air, extreme highs, emissions from the continent and a lack of cloud cover caused a "high" air pollution alert to be issued for London.
Elsewhere, authorities said the heatwave was causing "winter conditions" in parts of the NHS, while many nurses were said to be dizzy and exhausted.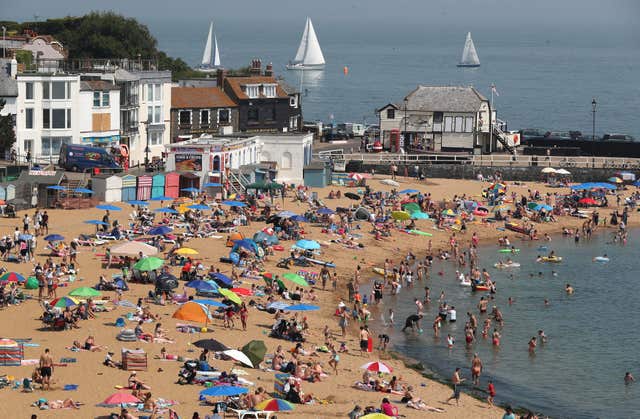 Some areas will see a more than 10C drop between Friday and Saturday, Mr Deakin added.
Scientists have warned that climate change is making such heat extremes more likely, and the report comes as northern Europe swelters in a prolonged heatwave.