A police officer who sawed and smashed his way through a suspect's windscreen with a knife has been cleared of common assault and damaging property.
Joshua Savage, 28, was accused of attacking Leon Fontana's Ford Fiesta with a baton before cutting the glass with a lock knife on September 16 2016.
Police mistakenly thought the driver was a potentially violent drug dealer called TJ Dixon who may have had a weapon and only a provisional licence.
The incident left Mr Fontana with a shard of glass in his eye that had to be removed by a doctor, and he was forced to pay £175 to have his windscreen repaired.
The incident, at around 5.25pm on Vicar's Road in Camden, north-west London, was filmed by Mr Fontana and shared widely online at the time, provoking a public outcry.
Mr Savage's actions were described by the prosecution as those of "a bully in uniform".
The police officer said he acted lawfully and proportionately when Mr Fontana refused to step out of his vehicle, and that it was common practice for Metropolitan Police officers to carry knives on duty.
On Friday, Mr Savage was cleared of one count of assault by beating and one count of damaging property at Southwark Crown Court.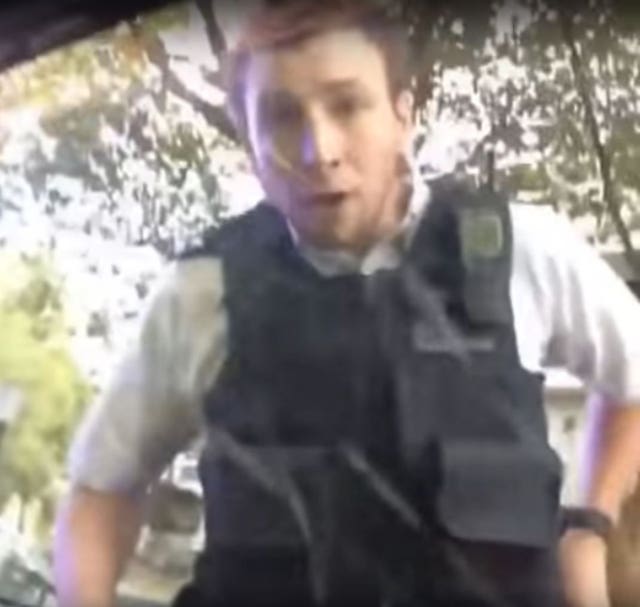 In his evidence, Mr Savage claimed the sharp rise in violent crime in London is down to officers being too afraid to make arrests in case they face a backlash.
"It was as a situation where I was trying to gain (Mr Fontana's) compliance, trying to speak to him – absolutely the situation didn't unfold the way I would have liked," he said.
The court heard that Mr Savage had run a check on the vehicle by radio and learned that it had previously been used to make off from police.
He continued: "I knew I was in a police-unfriendly area, potentially with a person who could present a risk to myself or my colleagues.
"I knew the driver was potentially someone who might make off from us, so I approached the vehicle feeling very anxious."
Mr Savage said he was unable to see into the car properly because of its tinted windows.
"I believed the driver to be Mr Dixon. We knew he presented a risk to police officers and the public in that he would be prepared to drive off and cause a pursuit."
He added: "The subject was in a vehicle, a vehicle is a killing machine and he was completely in control of that vehicle."
Mr Savage said that when Mr Fontana started filming him, it seemed like he wanted to repeat the whole exchange from the beginning "for the benefit of the camera and his YouTube fans".
"This is the problem we are seeing throughout London – police officers are more reluctant to deal with things because they are scared of what might come afterwards.
"Hence why we are seeing gang members not being disrupted and the rise in violent crime."
Mr Savage claimed that "the majority" of response officers carry their own bladed tools on duty.
He said his job required a "cutting implement" for acts such as slicing seat belts off trapped car passengers in emergency situations.
Mr Savage said his multi-tool was always clearly displayed on his belt and that he had never tried to conceal it because it is bright yellow.
In the footage of the alleged assault, when Mr Fontana refuses to leave his vehicle, the Metropolitan Police officer can be heard saying in footage played to the jury, "Get out of the car" and, "You're not allowed to drive it".
Mr Fontana, who placed his keys on the dashboard, replies: "I've got a licence and insurance" and says he is filming for his own safety.
In his evidence, Mr Fontana said: "I thought if I left that car I would have been in danger certainly.
"I certainly wasn't getting out to a police officer with a knife and a cosh in his hand."
Mr Savage, of Hermon Hill, Wanstead, north-east London, has been on restricted duties with the Met since the incident.
Despite his acquittal, Mr Savage still has to satisfy the Independent Office for Police Complaints (IOPC) that he is fit to serve as an officer.
IOPC regional director Jonathan Green said: "Our investigation gathered evidence that suggested a criminal offence may have been committed by that officer. A trial has now been held and Pc Savage has been cleared of all charges.
"Our investigation found that a misconduct hearing could decide that Pc Savage's actions amount to gross misconduct.
"The Metropolitan Police did not agree and so we have directed that a misconduct hearing be held to consider the evidence."
A date for the hearing has yet to be set but Mr Green said it would take place as soon as possible.