The husband of a charity worker jailed in Iran has said Jeremy Hunt brings a "fresh start" in the campaign to free her after the "baggage" of Boris Johnson.
Richard Ratcliffe met the recently appointed Foreign Secretary on Thursday to discuss what action can be taken to free his wife, Nazanin Zaghari-Ratcliffe, who was sentenced to five years in prison in 2016 after being accused of spying.
Mr Hunt has promised to make the case a "top priority", Mr Ratcliffe said.
"I thought it was a positive meeting," he added. "He was open and straight and sincere with us."
Mr Johnson had faced criticism over his handling of attempts to free the mother of one.
The former foreign secretary was hit by a backlash for telling a parliamentary committee that Mrs Zaghari-Ratcliffe had been in Iran to train journalists, which he later acknowledged was not the case.
Mr Ratcliffe told the Press Association: "It's a fresh start and we had a good meeting. We all came away more positive than when we went in.
"She's still in prison and we will see how things go.
"The former foreign secretary was sincere in wanting Nazanin home.
"There was baggage in the way it all happened and a fresh start allows for some of that baggage to be laid to rest."
Mr Ratcliffe asked for Mrs Zaghari-Ratcliffe to be given diplomatic protection and hopes to have a decision from Mr Hunt soon.
He said the move would stop any "inertia" in the case and help curb his wife's "despair".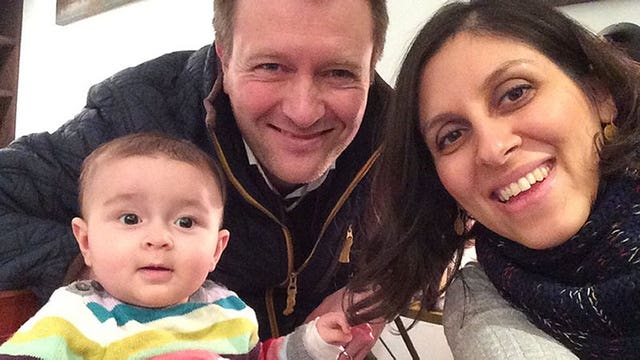 Mr Hunt pledged to do everything possible to secure her release.
"Good to meet Richard Ratcliffe and his family yesterday," he tweeted.
"It's a shocking and desperate situation and they are showing extraordinary strength and resilience, as is Nazanin. We will do everything we can to bring her home."
Mr Ratcliffe was accompanied by his mother, Barbara Ratcliffe, and uncle, Geoffrey Dive, who is one of Mr Hunt's constituents and has met him four times previously to discuss the case.
Mrs Ratcliffe said the Foreign Secretary sounded "genuinely concerned" during the meeting.
"He also discussed with the Foreign Office staff what they would do if it was their families, and mentioned his own children.
"He said he wanted to think carefully about giving Nazanin diplomatic protection. The meeting gave me hope."
Mr Dive said: "He continued to show the same concern for Nazanin's safety that he has during constituency meetings – for which we are thankful.
"I hope as Foreign Secretary he can find a way to resolve the issues which are still preventing her release. Our family is relying on him."
Mrs Zaghari-Ratcliffe, who works for the Thomson Reuters Foundation, is facing a further hearing over an unspecified security charge which her family believes will include an accusation of spreading propaganda against Tehran's Islamist regime.
She has consistently denied all allegations, insisting she was on holiday to introduce her daughter to her family.
Kate Allen, Amnesty International UK's director, said: "The Foreign Secretary's pledge over trying to secure Nazanin's release is very welcome, as is the fact he's had a face-to-face meeting with Richard relatively early into his new job.
"We'd now like to see the UK Government at all levels pushing hard for Nazanin's release.
"This has gone on far too long. Nazanin is a prisoner of conscience who should never have been jailed in the first place. She should be freed and allowed to travel back to the UK with her young daughter Gabriella."