Betting firm William Hill has swung to a half-year loss after taking a hit on UK Government plans to cut the maximum stake on fixed-odds betting terminals (FOBTs) to just £2.
The company reported a bottom line pre-tax loss of £819.6 million for the six months to June 26, having reported a profit of £93.1 million during the same period last year.
That was against a 3% rise in group net revenue to £802.6 million over the half year to June 26.
Its results were knocked by £915.9 million in exceptional charges and adjustments, which included an £882.8 million impairment charge on its retail operations.
That was linked to the UK Government's decision to reduce the maximum stake on fixed-odds betting terminals from £100 to £2 – a regulatory change which William Hill said was "unprecedented".
"Its impact on customer behaviour will not be known until some years after implementation but we currently estimate this could reduce the retail division's annualised adjusted operating profit following mitigation measures by c£70-£100 million," the company said.
The remaining exceptional charges included restructuring costs from its turnaround programme.
The results sent shares down more than 9% in morning trading.
Chief executive Philip Bowcock said: "William Hill has performed well during the first half of 2018 and, following major regulatory decisions in the UK and US, we now have greater clarity over the challenges and opportunities that lie before us.
"During the first half, our online business continued to deliver double-digit growth.
"In retail, we are beginning to put in place plans to mitigate the impact of the triennial review.
"In the US, we have moved quickly following the repeal of PASPA as we grow into newly regulating states. We will continue to invest in the US to ensure we are well-placed to capture the substantial potential available to us."
Betting firms such as William Hill are taking advantage of a recent ruling by the US Supreme Court which struck down a federal law that had banned gambling on individual sporting events.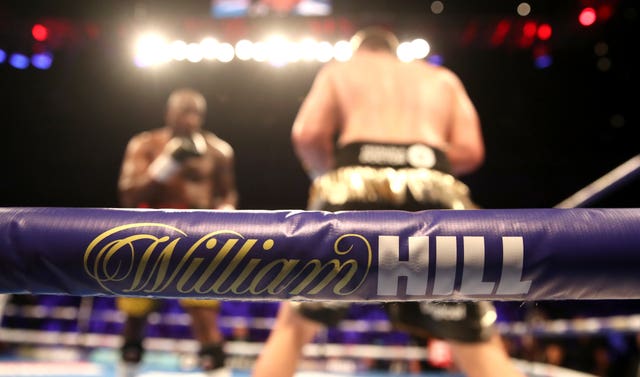 William Hill said it has signed deals with 11 casinos in Mississippi and one casino in West Virginia to run sports books and plans to take the first sports bet in Mississippi in August.
It accepted the first bet in New Jersey through its Monmouth Park sports book in June and launched its new sports book at the Ocean Casino in Atlantic City.
The company is also expanding its offering in Delaware as a risk manager for the state lottery.
Mr Bowcock stressed that the company was staying aware of risks to consumer well-being.
He said: "Fundamental to delivering over the long term will be our sustainability strategy, which marks a significant cultural change for the company.
"Gambling-related harm is a serious issue and it is important that we face up to this challenge.
"We have set ourselves the ambition that nobody is harmed by gambling and set out a detailed programme of actions as we start out on this journey."