Ads for food giants KFC and Kellogg's have been banned for promoting junk food to children, one outside a school and the other during a television cartoon programme.
The Advertising Standards Authority (ASA) banned the poster for KFC's Mars Krushems drink after it appeared in July on a telephone box a short distance from the entrance to a primary school.
The ASA said it was "highly likely" that the ad's location meant that it broke rules that no medium should be used to advertise products high in fat, salt or sugar (HFSS) if more than 25% of its audience was under the age of 16.
The watchdog also banned a television ad for Kellogg's Coco Pops Granola that appeared in January between episodes of the Mr Bean cartoon during programming specifically dedicated to children under 16.
It agreed with Kellogg's argument that the granola was not an HFSS product, but said the branding was synonymous with the original Coco Pops and therefore had the effect of promoting a high-sugar cereal.
Both bans followed complaints from the Obesity Health Alliance that the ads were for HFSS products and directed at children.
KFC confirmed that its ad was for an HFSS product and said it was mistakenly placed within 100 metres of the school.
They said the ad's placement was an error, which came about after its media agency mistakenly selected the phone kiosk as a site for the ad.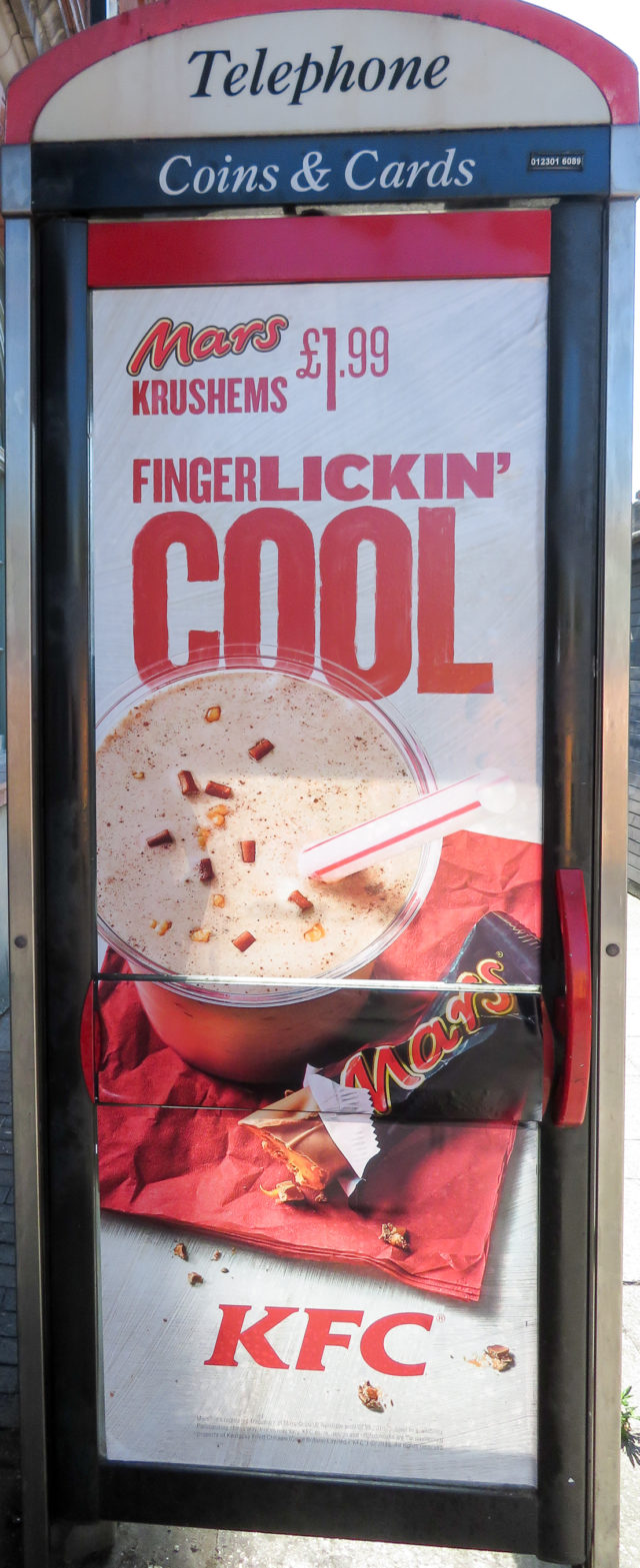 Kellogg's said: "We are disappointed with this decision as we ensured throughout the advert that we were only promoting the Coco Pops Granola product, a cereal that can be advertised in children's airtime.
"It's particularly surprising when a ruling from the television regulator Ofcom published on Monday confirmed that an advert for the same product was not in breach of the advertising code."
The ASA cleared two McDonald's ads, the first for a Happy Meal which appeared between episodes of Peppa Pig on the Video on Demand service Ketchup TV, on the grounds that it did not feature any HFSS products.
The second ad, which appeared on the back of bus tickets and promoted a Big Mac, McChicken Sandwich or Filet-O-Fish and medium fries, did not break the rules because children made up less than 25% of its audience, the ASA ruled.
Last month the ASA banned ads for Cadbury eggs and Chewits and Squashies sweets as a result of new rules prohibiting campaigns for HFSS across all children's media – including online and social – introduced in July last year.
Caroline Cerny, from the Obesity Health Alliance, said: "The ruling on Coco Pops Granola provides an important precedent for junk food marketing.
"This ruling recognises that, even though the product shown is classified as 'healthier', the advert used all the same features as adverts for original Coco Pops cereal and therefore essentially promoted the less healthy product, which is not acceptable.
"We are very supportive of brands reformulating their products to reduce sugar and overall calories, but they must market them responsibly.
"This is just another example of the ever-evolving tricks brands use to get their products in front of children and why we need stronger, regulatory protection online and with a 9pm watershed on junk food adverts on TV."
The Government has proposed a 9pm watershed for advertising unhealthy products as part of the second chapter of its childhood obesity strategy.