Northern Ireland's top police officer has vowed to do all he can to bring those responsible for the Omagh bombing to justice.
Chief Constable of the Police Service of Northern Ireland George Hamilton warned that as time goes by, the chances of securing a criminal justice outcome "reduces".
He was speaking as relatives of those killed in the Real IRA bomb gathered to remember their loved ones 20 years on.
An inter-denominational service took place at the Memorial Garden in the Co Tyrone town on Sunday.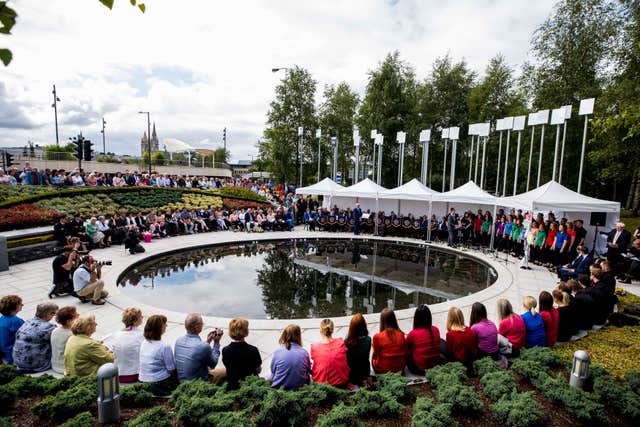 Speaking after the event, Mr Hamilton said: "We will do all that we can within the law to gather evidence that brings those responsible for this horrible atrocity to justice.
"If there are evidential opportunities, we will grasp them with both hands.
"If there's new science or technology that allow us to exploit and harvest more evidence from the exhibits that we already collected, of course we will do all of that. We will not be found wanting.
"It is also fair to say that as time goes by, the chances of a criminal justice outcome reduce.
"It's important to come and stand with this community, given the grief and trauma they have suffered over the past 20 years.
"There have been many dark days for them, there has been much frustration around the lack of criminal justice outcomes, I understand that.
"If we have opportunities, we will take them."
Donna Marie McGillion, 42, from Omagh, who was left seriously injured in the attack, described the memorial as an "emotional day".
Mrs McGillion suffered 65% third degree burns and was left in a coma for almost seven weeks after the blast.
The mother of two, whose daughter Cara, 16, sang in the choir at the event, said: "It's an emotional day and first and foremost my thoughts are with the families of the 31 as they will be finding it extremely difficult 20 years on.
"It's a special day and a way to help us move forward but ultimately this is about the 31 who walked with us in the town that day and aren't with us today.
"Remembering this day is a personal thing and people do whatever it is they need to do. For me, I always did my own thing. I did attend the anniversary events for the first five years but it was very hard.
"So we've been doing our thing. There is never, ever a day where I don't think about the 31 who aren't here.
"I have two children who weren't born when it happened, but they certainly live with it.
"I'm still going for surgery and after the bomb I had to wear a plastic mask over my face for four years.
"I have lung damage and still have shrapnel embedded at the top of my neck and bottom of my back. There are still days where I can barely move.
"I just try to get on with it now."
Omagh station watch commander Paddy Quinn, who was one of the first firefighters to respond to the bomb, said it is the worst incident he has ever attended.
He had been at work at a flooring shop at 3.10pm on August 15 1998 when the bomb exploded.
Mr Quinn recalled the moment he arrived at the scene.
"People were asking me to help them look for their children, wives and family members," he said.
"I never understood forgiveness at that time but I do now, I used to think why could you not forgive but when I saw what happened I knew why they couldn't forgive, it's an impossible thing to do.
"I can only imagine the hurt those people feel.
"We searched and searched and helped where we could. Members of the public used doors as stretchers and I could hear women and children shouting and screaming. It was fairly intense.
"It's only this week that I have been able to talk about it. It has stuck with me a long time."
Mr Quinn said his son was celebrating his 11th birthday when the bomb exploded and he had collected him from town a short time before it happened.
"As community firefighters you just go and do it because these are your people," he added.