House prices in London have fallen at their fastest pace since 2009 as the capital's property market continues to cool, official figures have shown.
Data from the Office for National Statistics shows that house prices in London dropped 0.7% in the year to June, the lowest annual growth rate since September 2009 when they fell 3.2%.
It continues an overall decline in the capital seen since the Brexit vote in 2016.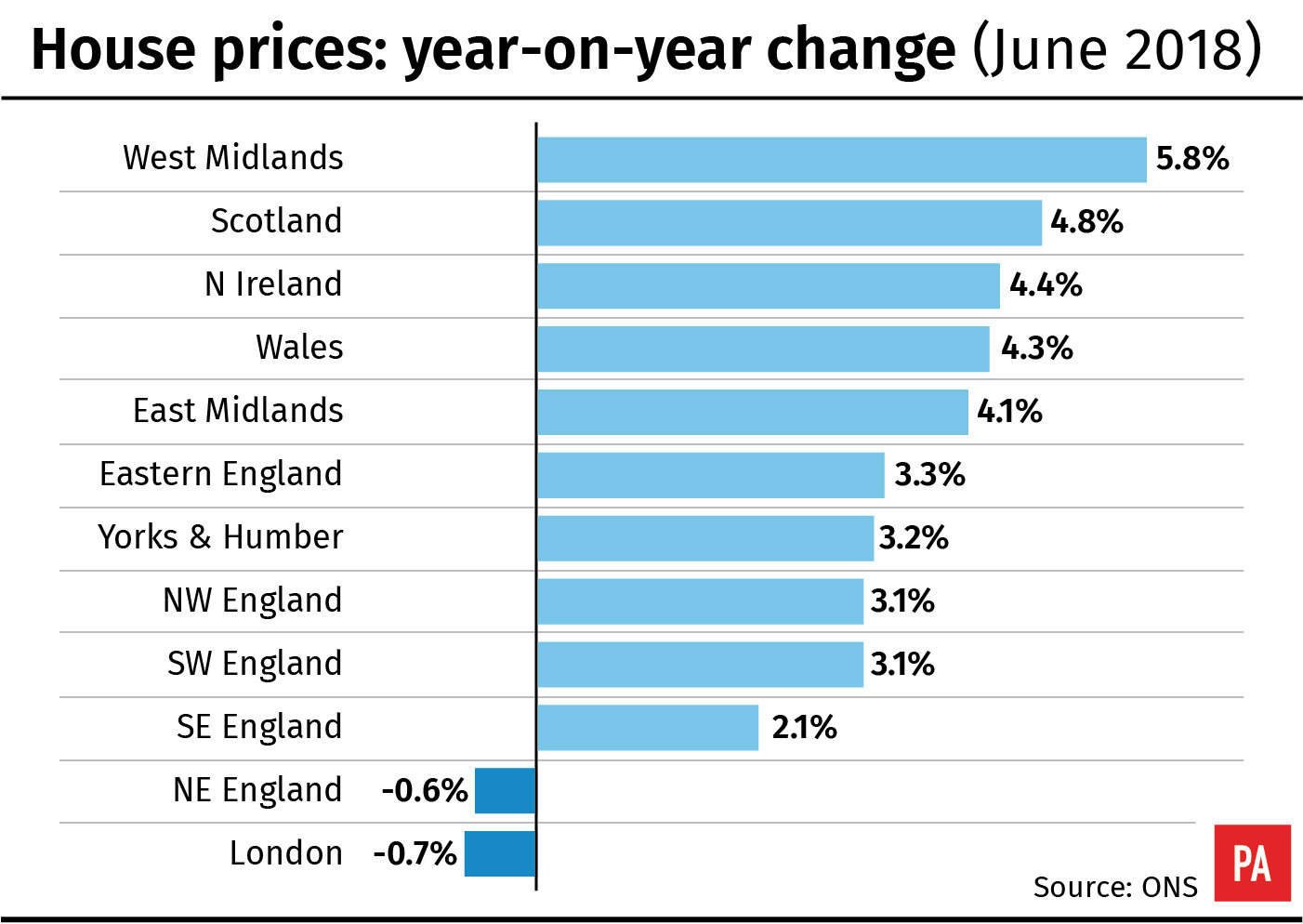 "Prices in the capital are more sensitive to changes in mortgage rates than elsewhere, because loan-to-income ratios are extremely high. The reduction in jobseekers from the EU, due to Brexit, also has hit demand in the capital."
Nevertheless, London continued to be the region with the highest average house price, at £477,000.
Annual house price growth across the country slowed to its lowest level in nearly five years in June, ONS figures also showed.
Average property values increased by 3%, down from 3.5% in May.
The price of a typical UK house is now around £228,400, a £1,000 increase on the previous month.
The strongest performer was the West Midlands, which experienced house price growth of 5.8%.
Howard Archer, chief economic advisor at the EY Item Club, said: "The impression remains that the housing market is struggling to really step up a gear in the face of still limited consumer purchasing power, fragile confidence and expectations of the Bank of England edging up interest rates (which it duly did at the August MPC meeting).
"There seems little evidence that the cutting of stamp duty for first-time buyers in last November's budget has provided a significant boost to housing market activity."
In England, house prices increased by 2.7% over the year to June, taking the average property value there to £245,000.
Wales saw average house prices increase by 4.3% over the previous 12 months to stand at £157,000.
In Scotland, the average price increased by 4.8% over the year to reach £150,000.
The average price in Northern Ireland was £133,000, marking an increase of 4.4% over the year.