Almost 6.5 million parking tickets could be handed to British drivers in just 12 months, new figures suggest.
Some 1.48 million vehicle keeper records were requested by parking management firms in just the first quarter of 2018/19, according to RAC Foundation analysis of Government data.
If this 14% year-on-year increase continues then an estimated 6.44 million parking tickets will be issued in the current financial year, the motoring research charity said.
Parking companies obtain records from the Driver and Vehicle Licensing Agency (DVLA) to chase vehicle owners for alleged infringements in private car parks such as at shopping centres, leisure facilities and motorway service areas.
Each resultant penalty charge can cost drivers up to £100.
RAC Foundation director Steve Gooding said: "Motorists might well be asking what is going on when the number of records being sought by private parking companies has shot up yet again.
"Numbers like these suggest that something, somewhere, is going wrong."
The Government has committed to back a Private Member's Bill which would lead to the introduction of a code of conduct for private car park operators.
Tory former minister Sir Greg Knight's Parking (Code of Practice) Bill passed its committee stage in the House of Commons last month. Its next step is the Commons' report stage scheduled for November 23.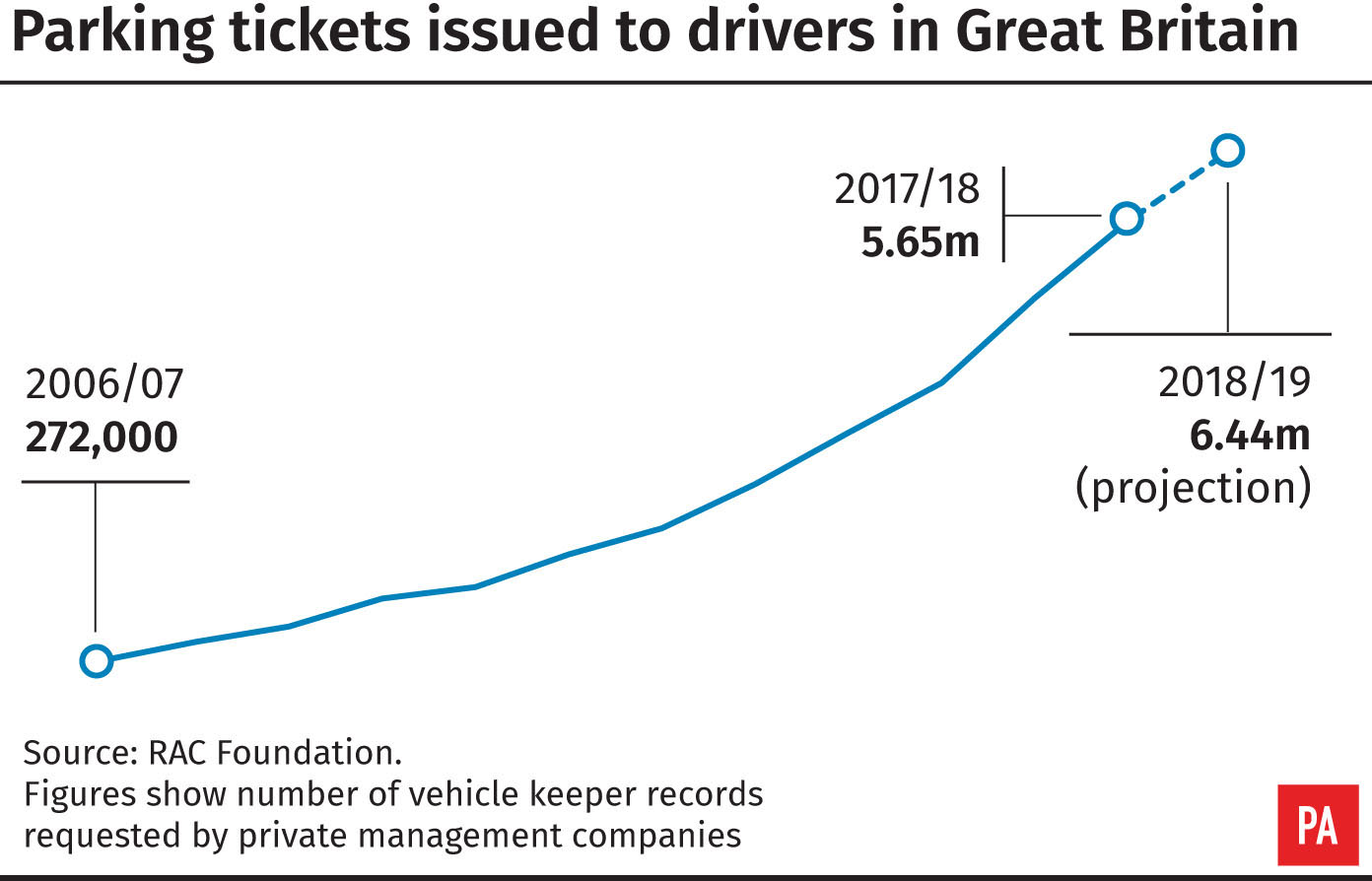 The biggest purchaser of data in the first quarter of 2018/19 was ParkingEye Ltd, which requested 388,000 records.
In July, Capita PLC agreed to sell the firm to Macquarie for £235 million. This is more than quadruple the £58 million that Capita paid for ParkingEye in 2013.
The DVLA charges private firms £2.50 per record, meaning the agency could collect more than £16 million during 2018/19.
The agency says its charges are set to recover the cost of providing the information and it does not make any money from the process.
– Here are the number of vehicle keeper records obtained from the DVLA by parking management companies since 2006/07:
2018/19 6.44 million (RAC Foundation projection)
2017/18 5.65 million
2016/17 4.71 million
2015/16 3.67 million
2014/15 3.06 million
2013/14 2.43 million
2012/13 1.89 million
2011/12 1.57 million
2010/11 1.17 million
2009/10 1.03 million
2008/09 687,000
2007/08 499,000
2006/07 272,000