Clerical sexual abuse scandals in the Catholic Church have led some to feel they can no longer trust the church's message, Archbishop Eamon Martin has said.
Mr Martin said the church faced a challenge in finding new ways of communicating "sincerely held perspectives" about the family.
The Archbishop of Armagh made the comments at the World Meeting of Families event in Dublin on Wednesday.
The Archbishop of Washington pulled out of his scheduled appearance after he was criticised for his handling of child sexual abuse allegations in Pennsylvania.
Mr Martin said: "In the aftermath of child abuse scandals and other shameful episodes of the past, there are those who feel they can no longer trust our message, perhaps because they have been directly hurt and betrayed in their families by their experience of Church, or because the revelations of such heinous crimes have shocked them to the core."
The All-Ireland Primate told several hundred Catholics who had gathered for his speech that Pope Benedict XVI had alerted the institution in 2010 to the fact that the sins and crimes of sexual abuse in the Church have not only had tragic consequences in the lives of victims and their families.
Mr Martin told the gathering that the State must be encouraged to support the exclusive union between a married man and a woman as a "cherished" space for raising children.
He said: "We must work together with all people of goodwill to encourage the State to support the family, and especially the uniqueness of the faithful and exclusive union between a married man and a woman as a cherished space for the bearing and upbringing of children.
The archbishop added that the Church was not suggesting that it wanted the State to overly intrude into, or replace, the important autonomy of the family.
But he said the Church believed that if the institution of the family was harmed, then all of society suffered.
"The family is much more than an economic or social unit," he said.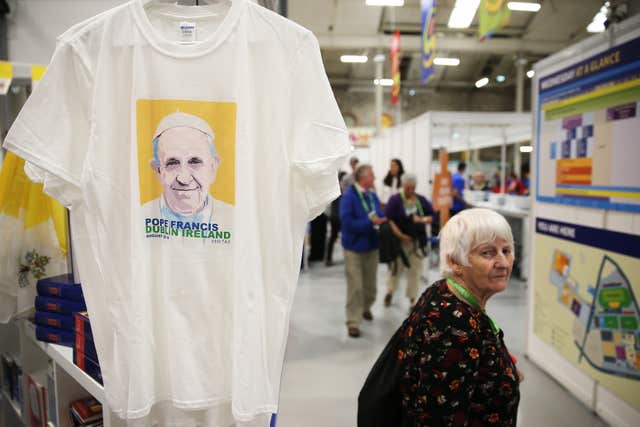 The World Meeting of Families event is expected to attract more than 37,000 people and families from 116 different countries to the RDS.
Hundreds of thousands more will attend the celebrations that will be led by Pope Francis this weekend in Dublin and Knock.
The WMOF will culminate with the closing papal mass in the Phoenix Park on Sunday.
The event has gained huge significance since the Pope made a statement on Monday apologising for the atrocities of clerical sexual abuse.