Survivors of clerical abuse in Northern Ireland must be included in a meeting with the Pope when he visits Dublin this weekend, their lawyer said.
Claire McKeegan said she had received no response from the organisers of the World Meeting of Families (WMOF) in Dublin and claimed her clients' calls had been ignored.
Campaigners have gathered at the gates of Belfast's City Hall, where they tied dozens of baby shoes to the railings and unfurled banners pledging to never forget the suffering of children.
Earlier this week, Pope Francis wrote an open letter to Catholics condemning child abuse and church cover-ups. He is expected to meet some victims during his 36-hour trip to the Republic this weekend.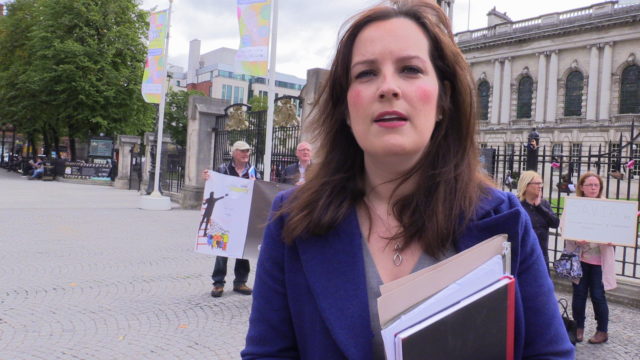 "But the frustration arises because in recent weeks and months there have been calls for apologies and meetings with the Pope during his visit and that was all ignored."
She said her clients had suffered sexual, physical and emotional abuse while in care, in schools and in church parishes.
They were harmed while very vulnerable, altar boys assisting at Catholic mass or in their own homes. Clerics in trusted positions accessed them through their families, the solicitor said.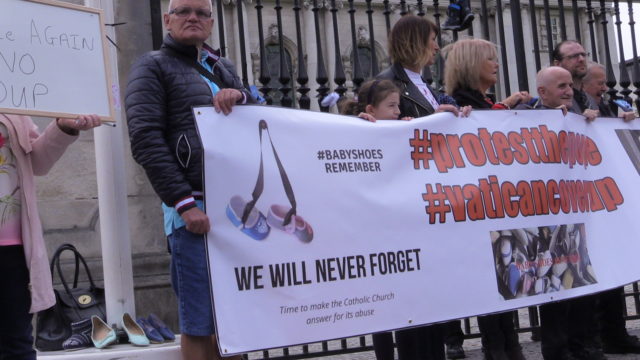 "They demand that if there is any meeting, survivors and victims from the North must be included and not left out as they have been in every public inquiry thus far."
The WMOF organisers have been contacted for comment. Their senior figure, the Archbishop of Dublin, has spoken in forceful terms about the harm done by the Irish abuse scandal.
A public inquiry led by retired Belfast High Court Judge Sir Anthony Hart recommended compensation be paid to abuse victims who were residents of institutions run by religious orders in Northern Ireland.
That has yet to be done after the powersharing administration at Stormont collapsed soon after the former judge published his report in 2017.
The report did not cover those who were not residents.
Among those supporting the protesters was former Ulster Unionist leader Mike Nesbitt, who called for action while the Stormont Assembly was still sitting.
Representatives of the nationalist Social Democratic and Labour Party (SDLP) and Sinn Fein were also present.
One protester held a placard which read: "Once again no DUP."
In the past, senior Democratic Unionists including Assembly member Christopher Stalford have expressed sympathy for their plight.
There is a degree of political unanimity that the Hart recommendations should be implemented as soon as possible.