Two Brexiteers behind the Leave.EU campaign have had their applications to join the Conservative Party rejected, according to the Tories.
Multimillionaire founder of the Brexit campaign Arron Banks and his spin doctor Andy Wigmore announced on social media that they had joined the Conservatives.
Mr Banks recently encouraged Leave.EU supporters to join the Tories to have a say in any forthcoming leadership battle, claiming such a contest is likely within the next three to six months, and thereby determining the type of Brexit pursued by the Government.
But a Conservative Party spokesman said: "Arron Banks and Andrew Wigmore's applications for membership of the Conservative Party have not been approved."
Mr Banks reacted to the statement by writing on Twitter: "That's strange because I had a nice welcome letter from (Conservative Party chairman) @BrandonLewis this morning saying you are now activated and welcome to attend any event."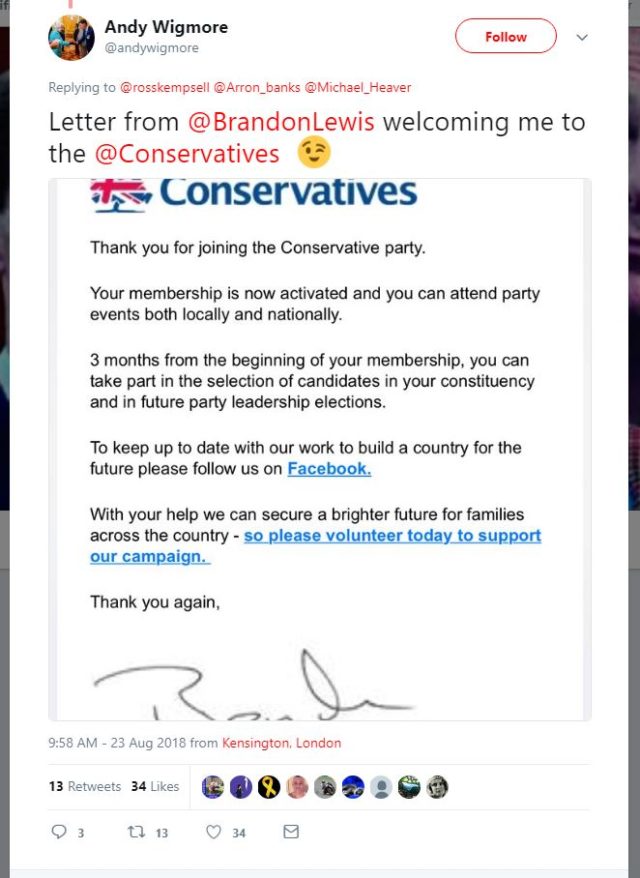 The pair said in an article for Banks' Westmonster news website that the battle for Brexit "is now within the Conservative Party" and any upcoming leadership election, hence their decision to seek membership.
Mr Banks said: "Most of our members are proper conservatives that believe in immigration control, family values, self reliance and prudent management of the economy.
"My Conservative Party membership lapsed in 2013 and I today joined the party."
He later tweeted Tory Remainers Anna Soubry and Nicky Morgan saying: "Play nicely we are family now! Richard Tice makes three out of the four bad boys of Brexit now Conservative members…only Nigel Farage left."
Mr Banks was asked on Twitter whether he would attend the upcoming Tory conference, to which he replied "why not?".
Andy Wigmore, also speaking to Westmonster, said: "Like thousands of other Brexit supporters I've rejoined the Conservative Party to ensure that if there is a leadership contest then I can influence the type of leader the country and the Tory Party need.
"We need a Brexit leader, one who believes in Brexit and will deliver what 17.4 million people voted for.
"A strong Tory membership is essential to hold the leadership and MPs to account, if the party continues on its current path then we will not get the Brexit we voted for and will ultimately end up with a Corbyn Government, both are not an option."