British Muslim women should not be treated as a "convenient political battleground" for "old Etonians" trying to get ahead in the polls, the former co-chairman of the Conservative Party has said.
Baroness Sayeeda Warsi said the party needed an inquiry if it was to claim it was inclusive when she spoke at Byline Festival in East Sussex on Saturday.
Discussing Boris Johnson's controversial burkas comments, she said: "British Muslim women who wear the face veil or anything that could be considered out of the ordinary for mainstream Britain are easy political battlegrounds.
"We saw that with Boris.
"It shouldn't be that British Muslim women are a convenient political battleground for old Etonians to be able to increase their poll ratings. It shouldn't be that British Muslim women are a useful tool to be able to get you back in the press."
The first Muslim woman Cabinet member said no-one should be able to "have a pop and get away with it", adding: "If we are genuinely committed to being an inclusive party, there has to be an inquiry."
A message needed to be sent that "this kind of aggression, this kind of stereotyping or abuse or whatever we want to call it against a community will not be tolerated", she said.
Mr Johnson has made no response on the subject since his comments in the Daily Telegraph column.
It was not "just" the Conservatives, and mainstream political parties including Labour needed to do some "soul searching", Baroness Warsi said.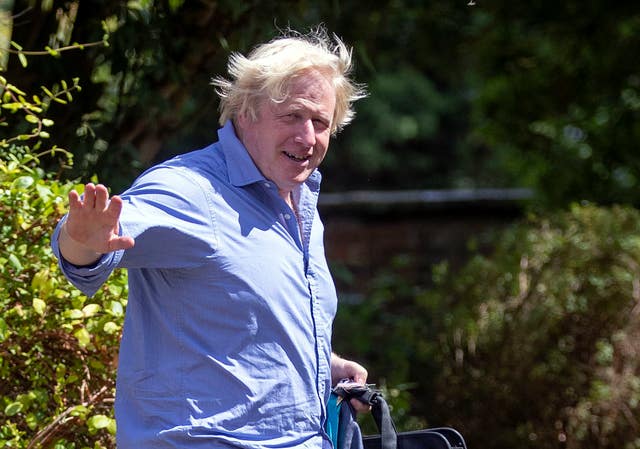 When asked by an audience member about Mr Johnson's ambition to be prime minister, she was met with applause when she joked: "Boris has wanted to be prime minister for so long and he's wanted to do it so many times that lots of us in the Tory party just kind of feel sorry for him or want to just let him have a go."
During the talk with Labour MP Naz Shah, entitled The Enemy Within: The Tale of Muslim Britain after her recently published book, Baroness Warsi said her "love affair" with the Conservative Party ended when it "decided to go wandering off to the right".
She described politics as a "pretty godforsaken place" and said she felt a "great sense of freedom to be able to speak truth to power" after resigning in 2014.
Talking in front of a packed audience, she said: "[David] Cameron and I had an honest, open, frank relationship. I felt we were in the same place on many issues."
But she said there was a "huge gulf" between his speeches from 2005 to 2007, and from 2015 to 2017 when discussing Britain's relationship with Muslims.
She added: "I think David, in many ways, moved further to the right. Much, much further to the right on these issues."
The former criminal lawyer, who said while in politics she was described as the "enemy within", claimed the party's headquarters previously decided the "British Muslim community didn't really matter" when it came to votes.
She also branded the term "British values" a "dishonest concept" and a "false term" because problems like the gender pay gap still exist amid a society that promotes equality.
The four-day independent journalism and free speech festival is taking place in Pippingford Park in the Ashdown Forest near Uckfield.
Sports presenter and former footballer Gary Lineker is due to talk about immigration and Brexit on Sunday, while Cambridge Analytica whistleblower Chris Wylie will appear on Monday.