Pope Francis says the people of Northern Ireland are in his thoughts and prayers.
The pontiff made the comment during a visit to a Catholic shrine at Knock in Co Mayo.
Catholics in Northern Ireland were left disappointed earlier this year when the details of the Pope's visit to Ireland revealed he was not going to travel north.
However, Francis made clear on Sunday his affection for the people of Northern Ireland.
"My pilgrimage to Knock also allows me to address a warm greeting to the beloved people of Northern Ireland," he said.
"Although my journey for the World Meeting of Families does not include a visit to the north, I assure you of my affection and closeness in prayer.
"I ask Our Lady to sustain all the members of the Irish family to persevere, as brothers and sisters, in the work of reconciliation.
"With gratitude for the advance of ecumenism and the significant growth of friendship and co-operation between the Christian communities, I pray that all of Christ's followers will support the continuing efforts to advance the peace process and to build a harmonious and just society for today's children."
Scores of people from Northern Ireland travelled to Dublin and Knock across the weekend to see Francis.
These included SDLP leader Colum Eastwood, Sinn Fein MLA Conor Murphy, Ulster Unionist MLA Robbie Butler and Presbyterian Moderator Dr Charles McMullan.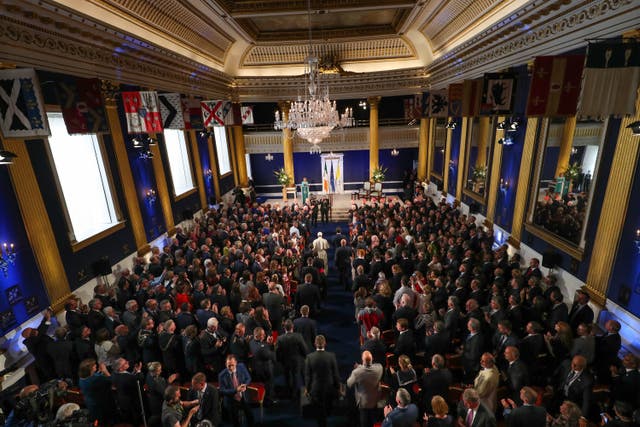 He was speaking to an audience at Dublin Castle, which included Secretary of State Karen Bradley and Good Friday Agreement peace deal architect George Mitchell.
Northern Ireland's powersharing administration at Stormont has been suspended for months in a row over identity issues like the Irish language, 20 years after a landmark accord largely ended violence.
The pontiff said the Irish Government, alongside leaders in Northern Ireland and Britain, had created a "dynamic" context for the peaceful settlement through the Agreement of a conflict which had caused "untold pain" on both sides.
He added: "We can give thanks for the two decades of peace that followed this historic agreement, while expressing firm hope that the peace process will overcome every remaining obstacle and help give birth to a future of harmony, reconciliation and mutual trust."