The Scottish capital's main festival season has drawn to a spectacular close with a massive fireworks display above Edinburgh Castle.
An estimated 250,000 spectators filled Princes Street Gardens and surrounding vantage points on Monday night to enjoy the Virgin Money Fireworks Concert.
The annual concert is the traditional finale to the Edinburgh International Festival (EIF) and marks the end of the city's summer festival period.
More than 400,000 fireworks were launched during the concert in a display synchronised to music performed live by the Scottish Chamber Orchestra.
It came to an end with huge white glitter and gold fireworks bursting more than 200 metres above Edinburgh Castle to the closing bars of Holst's The Planets.
The traditional "waterfall" of fireworks also descended down the castle rock, during the performance.
Earlier, the concert began with a selection of songs from Leonard Bernstein's West Side Story – in celebration of what would have been the 100th birthday of the composer this year – played by the Scottish Chamber Orchestra, unaccompanied by fireworks.
Watching in Princes Street Gardens, EIF director Fergus Linehan said: "This year's Virgin Money Fireworks Concert was absolutely amongst the best displays of its kind anywhere in the world."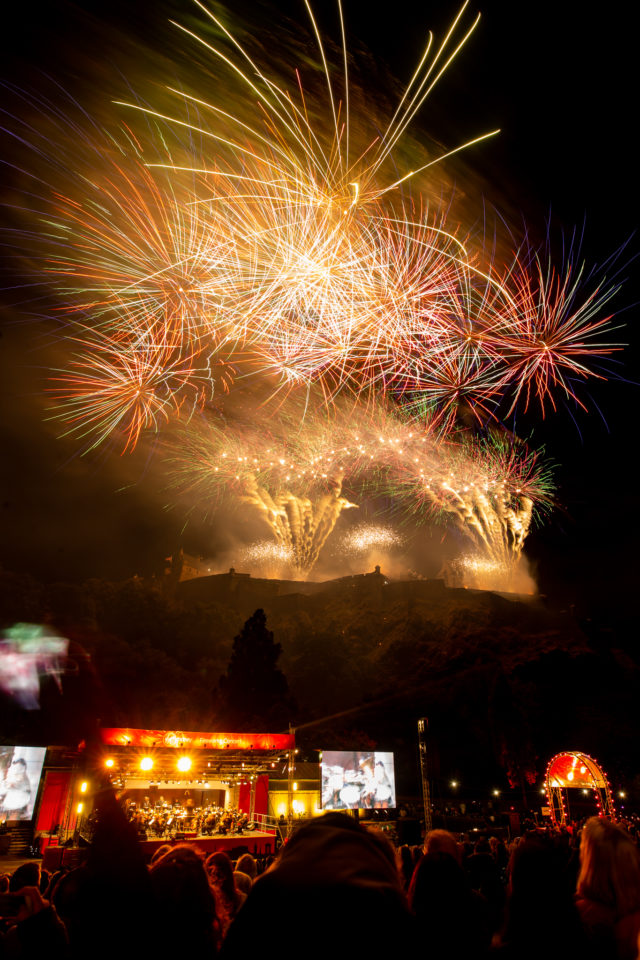 Keith Webb of Pyrovision, who designed the display, said: "We're over the moon at another hugely successful Fireworks Concert.
"All the hard work and dedication the team has put in was well worth it. After all our efforts, it's still as thrilling an experience as ever to see it come together."
Andrew Nicholson, brand director at Virgin Money, said: "The display was stunning and the performance by the Scottish Chamber Orchestra was breathtaking."
The EIF revealed that hundreds of thousands of people from more than 80 countries attended the three-week International Festival, which this year had an emphasis on Scotland's Year of Young People.
In all, 2,800 artists from 60 nations performed in 85 productions across 180 performances, organisers said.
Overall attendance reached an average of 85% of total capacity across the programme, they added.
Mr Linehan said: "As the 2018 International Festival draws to a close, we thank the many artists, staff members and audiences whose enthusiasm and tireless generosity make the festival possible."