A man who stabbed a surgeon who treated victims of the Manchester Arena terror attack has been jailed for five years and four months.
But Ian Rooke's victim, Dr Nasser Kurdy, told the court the attack, described as "close to murder", had made him a better man.
Rooke, 29, attacked Dr Kurdy, 58, from behind with a kitchen knife outside a mosque on September 24 2017.
The father-of-three suffered a 5cm deep wound to the left side of the back of his neck.
The blade missed his jugular vein and spinal cord by millimetres but the surgeon was stitched up and back treating his patients at Wythenshawe Hospital within two days, Minshull Street Crown Court in Manchester heard.
Rooke was later cleared by a jury in March of attempted murder but admitted wounding with intent and possession of an offensive weapon and his sentencing adjourned until Tuesday for the preparation of psychiatric reports.
But in a victim impact statement from Dr Kurdy ahead of his sentencing, the victim told the judge that since his stabbing he had experienced "post-traumatic growth syndrome".
He added: "The stabbing has had an unbelievable positive impact on me. I am a much better person for having gone through this ordeal.
"I am a much happier man than before. My outlook on life has changed to the better. I have met many wonderful people and I have new purposes in my life.
"I feel that my forgiveness has touched many people positively.
"I was told that at one of my local schools where the children were being taught about forgiveness, I was the example that was given to them."
Dr Kurdy also said he felt "sadness and compassion" for his attacker adding: "There can only be justice if Ian becomes a better person and I hope I am permitted to be part of his rehabilitation."
The stabbing, a few months after the Manchester Arena attack, was initially feared to be a hate-crime, but Dr Kurdy was simply "in the wrong place at the wrong time" and picked as a victim by Rooke at random, the court heard.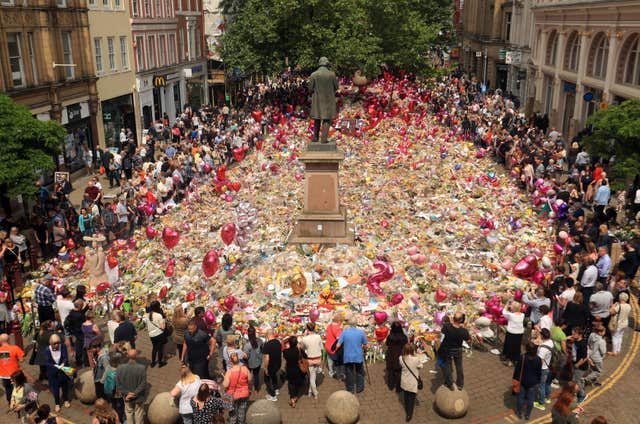 David Temkin, mitigating for Rooke, said: "I do express my client's deep respect for his victim, which has grown and grown over the course of these proceedings."
Jailing the defendant for five years and four months, Judge Maurice Greene said: "It made him (Dr Kurdy) a more contemplative person, a more reflective person and undoubtedly he has forgiven you for what you have done."
Earlier the court heard Rooke suffers a personality disorder and had been drinking and not taken his anti-psychotic medication for two days prior to the assault.
Dr Kurdy retreated inside the building, grabbed a chair to defend himself and went outside to confront Rooke – but he had fled.
Rooke was arrested a short time later at his brother's house and admitted the attack.