The clock face on the listed facade of one of Belfast's most venerated old buildings was ruined by the massive fire.
Counting the minutes for more than 200 years from the roof of the Primark store, its time ran out on Tuesday.
Designed as a bank in the late 1700s, the building still carried a sense of past grandeur, one of a series of historic buildings which define Belfast's compact city centre skyline.
On Tuesday its empty windows glowed red with flames and an enormous plume of thick smoke drifted in a northerly direction.
He expressed concern his group would not be able to stay at their nearby Ramada hotel.
"I have never seen a fire like this and I have been all over the world.
"Thirty minutes ago it was almost out, only the roof was on fire, now the complete building has gone."
The fire cleared Belfast city centre of shoppers and workers; the Primark store is on the main shopping street.
A continuous jet of water was directed towards the building, dwarfed by the massive plumes of smoke.
Large crowds had gathered at a cordon a couple of hundred metres away.
Most nearby shops had closed their doors.
Mr Schiffelers was broadcasting the scene live on Facebook using his smart phone.
He was awaiting the return of his tourists from the popular Titanic Belfast visitor centre a couple of miles away.
He added: "We have to see if we can sleep in our hotel or not tonight, that is the big question.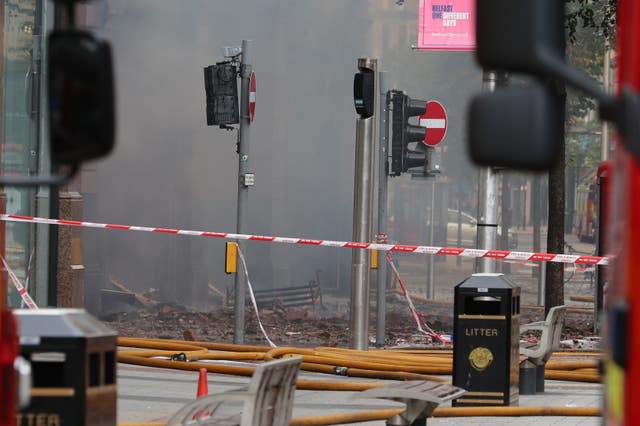 It is on the corner of one of Belfast's main shopping streets, Royal Avenue.
Thick black smoke could be seen billowing miles away, from a distance it looked like a tornado had landed in Belfast.
With much of the city centre closed off, large crowds had gathered to watch and film the efforts to fight the fire.
The emergency response was methodical and unhurried, organised.
But to the massed bank of onlookers held back by police tape, it appeared like the damage was terminal.