Ireland's president has hit out at the world's most powerful countries for being behind the mass export of "weapons of death" across the world.
Michael D Higgins criticised the five members of the UN Security Council who are responsible for the bulk of the world's arms exports.
Speaking at an address to mark the 50th anniversary of aid agency Concern, Mr Higgins warned of the role the five members – China, France, Russia, the UK and the United States – have in what he described as the "arms race".
Referring to findings by the Stockholm International Peace Research Institute, he said that the five UN members who are "entrusted with the maintenance of international peace and security" account for three-quarters of global arms exports.
Speaking at Dublin Castle on Friday, Mr Higgins said: "In 2016, 2.23% of global gross domestic product (GDP) was devoted to military expenditure, the lowest since 2000, and far below the heights of the Cold War.
"Yet that has begun to rise as some of the permanent members of the Security Council embark on a new arms race, and the arms industry now exports weapons of death and destruction for use in Syria, the Democratic Republic of Congo and Yemen.
"The self-defeating rhetoric of the arms race, and the immorality of the arms trade, only serve to fuel current and future wars.
"That is most evident today in Yemen."
He told the audience that UN secretary-general Antonio Guterres warned that 22 million Yemenis are in desperate need of humanitarian aid and protection.
But he added that while the UN was seeking a peaceful political solution, the conflict in Yemen was "sustained by the sale of arms and by the support" of Security Council members.
The president added: "It is a stark example of the triumph of the diplomacy of transaction, and of narrow national interest, over the diplomacy of the common good embodied by the Charter of the United Nations."
He went on to say, however, that the UN needs worldwide support as it is the best alternative to war.
"Through 50 years of action and advocacy, Concern has stood for a different vision of the world, one in which power yields to justice, one which recognises that we are all part of a common humanity, owing to ourselves and to others not only of compassion, but of solidarity," he said.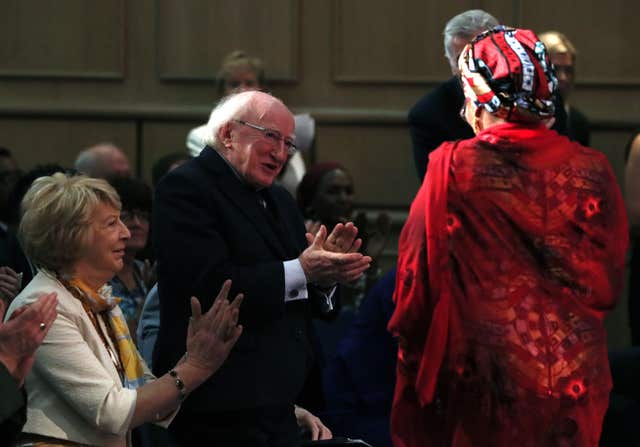 When asked about Mr Higgins's comments on the Security Council, she said: "Let's hope that we can turn that around. You would have seen in the secretary-general's recent speech on nuclear disarmament, that is taking hold.
"More people are thinking of better ways to reduce armed conflict and therefore there will be a reduction in the production and need for weapons.
"We should really be looking to the resolutions to peace, dialogue and mediation."