A former medical student used a knife to decapitate a customer in a betting shop and then mutilated the victim's face and one of his hands, a court has heard.
Hassan Mustafa, 35, is alleged to have beheaded his former housemate Khalid Yousef after a Paddy Power manager set off a "fog cannon" in an effort to halt the attack.
The jury at Birmingham Crown Court was told an apparently calm Mustafa was arrested by armed police as the smoke from the anti-robbery device lifted.
The jury has been told it will be invited to consider a "special verdict" of not guilty of murder by reason of insanity.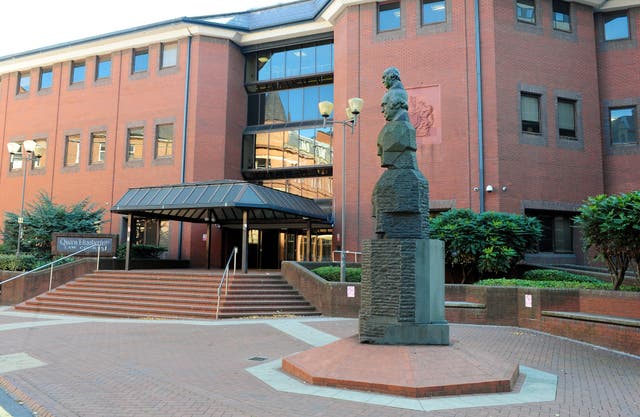 Mr Rees told the court that 28-year-old Mr Yousef entered the Paddy Power branch in Rookery Road, Handsworth, Birmingham, shortly before 12.40pm on Thursday January 4.
A few minutes later, Mustafa, formerly of Stratford Road, Sparkbrook, entered the shop armed with up to four knives, the court heard, and asked Yousef outside, where they began fighting.
Mr Rees told the jury: "As events unfolded, the defendant pursued Mr Yousef into the shop brandishing a large kitchen knife which he used to attack him.
"Mr Yousef was soon overcome and unable to resist. The manner in which Khalid Yousef met his death was horrific.
"The evidence from the pathologist establishes that the cause of death was decapitation. In addition to the head being severed, the body was mutilated in other ways."
The pathologist observed that the mutilation had been "carried out with some skill" – possibly reflecting on the training the defendant received studying for medical qualifications.
Describing Mustafa's arrest by police, the prosecutor added: "As the smoke cleared, they saw the deceased lying on the floor with the defendant standing over him."
Mustafa was taken to a psychiatric unit but exercised his right not to answer questions about the death before being charged with murder.
Mr Rees said the jury would hear from psychiatrists appointed by both the prosecution and the defence, who believe Mustafa was suffering from paranoid schizophrenia.
The Crown's barrister told the court: "The real focus for you will be to consider whether the defence have established that as a result of a mental disorder, the defendant did not know the nature and quality of the act he was doing.
"We understand that at the heart of his defence of insanity is the assertion that, at the time of the killing, he held a delusional belief that he and the deceased were both 'extraordinary gentlemen' who were in competition for treasures."
The trial continues.