The first victim of the Westminster terror attack died as Big Ben chimed, after he stepped in heroically to save his wife.
American tourist Kurt Cochran, 54, had been on a whistlestop tour of London with his wife Melissa when they were both struck by a car on Westminster Bridge.
Mr Cochran pushed his wife away, bearing the full impact of Khalid Masood's hired Hyundai Tucson, sending him flying over the balustrade and on to the embankment below.
He had suffered terrible injuries and was pronounced dead 17 minutes after a paramedic arrived as Big Ben struck 3pm, an Old Bailey inquest heard.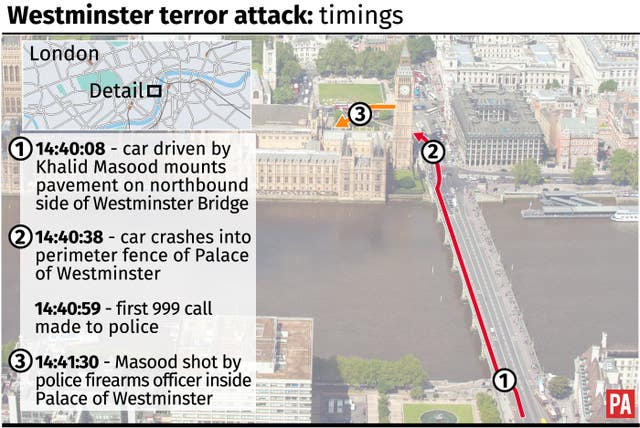 On March 22 last year they had visited a number of tourist attractions, ending up at Westminster Abbey.
She said: "My next recollection, after I read some of the witness statements, I remember hearing a car revving.
"I remember seeing the front of the vehicle. The next thing I remember, being on the ground."
Mrs Cochran said she was badly injured and spent about a month in hospital afterwards.
"We had one day in London so we were cramming everything in we could.
"We had two-and-a-half hours in London before the attack."
Gareth Patterson QC, for three of the victims, asked: "Kurt's right arm went out.
"Do you remember when he reached across and then pushed you out of the way?"
Mrs Cochran said she had no memory of it, but added that it was typical of her husband.
Kylie Smith, a teacher who was accompanying a group of teenage schoolchildren on a trip to London that day, said Masood had deliberately targeted Mr Cochran as he stood by a souvenir stand on the bridge.
"It was very clearly a deliberate act. The way he turned the car to change the direction," she told the inquest.
"There was a couple walking hand in hand who I had previously been watching across the bridge, walking along having a nice time.
"The car came towards them. The man tried to pull his girlfriend behind him, tried to shield her from the impact.
"The man went over the car and just flew up in the air.
"It was chaos. It was just chaos. People trying to get out of the way but nobody really had a chance."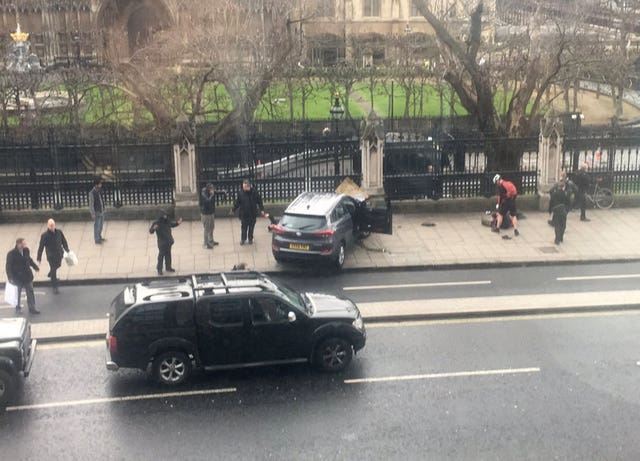 Mr Hulbert described Mr Cochran "flying through the air" over the balustrade of Westminster Bridge, landing two or three metres away from him.
First aider Mr Hulbert said he knelt down by the unconscious man while someone else called 999.
He noticed Mr Cochran had "laboured" breathing, had broken his legs and was bleeding from a head injury and through his nostrils.
Specialist nurse Tanya Henshaw said: "I think it was probably fairly obvious to all of us that Kurt probably was not going to survive. We carried on as long as we could."
Paramedic James Richards described how Kurt Cochran died at 3pm, 17 minutes after he arrived at the scene.
On arriving within minutes of the attack, he said: "Initially we saw several abandoned vehicles, many people moving in different directions, casualties around clearly injured, generally a scene of chaos.
"I was informed that someone had gone over the edge of the bridge and on to the embankment below.
"I went to the edge of the bridge and looked over. I saw my patient Mr Cochran in a splayed-out position with a couple of people around him."
At first he had "rasping" breath but his condition deteriorated in the 17 minutes the paramedic was there.
Mr Cochran was pronounced dead as Big Ben struck 3pm and Mr Richards was instructed to move on and treat more casualties.
Retired window cleaner Leslie Rhodes, 75, was the second pedestrian to be knocked down on the bridge, 22 metres away from Mr Cochran.
Dr Gareth Lloyd, who was passing at the time, stepped in to help and stayed with the stricken pensioner when he was taken to hospital.
He told the inquest Mr Rhodes' injuries were "unsurvivable".
In the space of 82 seconds Masood, 52, killed four pedestrians including Aysha Frade, 44, and Andreea Cristea, 31, before stabbing Pc Keith Palmer to death at the gates to the Palace of Westminster.
The rampage ended when he was shot dead by a plainclothes officer who had rushed to the scene.