Sports Direct board members have discussed a possible merger between Debenhams and House of Fraser, a company director has revealed.
Outgoing senior non-executive director Simon Bentley said at the Sports Direct general meeting that a combination had "been discussed".
He added that the company still has its "hands full" with integrating House of Fraser, which Sports Direct acquired out of administration last month.
Sports Direct owns just under 30% of Debenhams, close to the threshold at which it must launch an official takeover bid. Analysts have previously suggested the two department stores should combine to cut costs.
In explaining his earlier comments, Mr Bentley added: "I was asked a general question about whether or not we discuss our strategic investments, and in particular Debenhams, to which I replied in the positive.
"I made no mention of any merger between House of Fraser and Debenhams, nor did I intend my answer to infer that."
Shares in Debenhams soared by almost 9% following the admission.
Mr Bentley announced his retirement from the Sports Direct board earlier on Wednesday, with Nicola Frampton to join next month.
Long-standing chairman Keith Hellawell also said he would retire, ending his controversial nine-year tenure. He will be replaced by non-executive director David Daly.
Mr Hellawell, a former West Yorkshire Police chief constable and government drugs tsar, fielded criticism after allegations of poor working conditions at the retailer's warehouses came to light.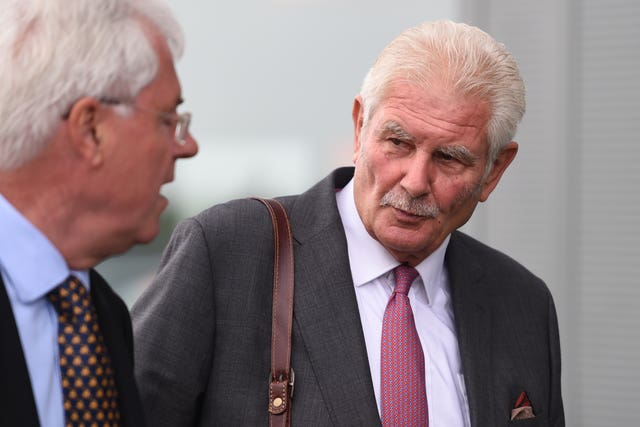 Steve Turner, assistant general secretary of union Unite, said: "It's about time he resigned. During his tenure he has presided over shocking working conditions at the Shirebrook warehouse.
"The question now is will his replacement stand up to (Sports Direct chief executive) Mike Ashley in the interests of workers and shareholders?"
Influential advisory groups had urged shareholders to oppose Mr Hellawell's re-election, arguing he had lost investor confidence and failed to appoint any female directors to the board.
"Having overseen significant improvements in the working practices and corporate governance of the company, which includes a refresh of the board, now is the right time for me to step aside," Mr Hellawell said on Wednesday.
"I have every confidence that the group will continue to go from strength to strength. I have enjoyed the challenges of Sports Direct and the support of Mike Ashley, many major investors, members of the board and senior staff, and wish them much success for the future."
A total of 9.8% of investors voted against Mr Ashley's re-election at the Sports Direct AGM after shareholder advisory groups criticised his "excessive influence" over the company.
Sports Direct said it is on track to meet expectations in the current year, as the retailer gears up for its annual meeting.
The sporting goods group is set for between 5% and 15% growth in underlying earnings, excluding the recent £90 million acquisition of House of Fraser.
Shares in Sports Direct were 3.7% higher in afternoon trading on Wednesday at 353.6p.