Trapped Grenfell Tower residents told to stay put by 999 operators were not informed the advice had changed unless they happened to ring again, an inquiry has heard.
The London Fire Brigade control room had a policy not to re-contact callers, meaning those instructed to remain in their flats on June 14 last year received no updated guidance.
The standard high-rise policy to "stay put" in the event of fire was ditched at 2.47am – nearly two hours after the blaze began – when it became clear the inferno was out of control.
Stay-put advice is given on the basis that a fire should stay within the flat of origin, but at Grenfell Tower it rapidly engulfed the whole block.
Alexandra Norman, the most senior supervisor at the control room when the fire started, told the inquiry into the disaster that it would have been "impossible" to ring everyone back.
Hundreds of calls poured in throughout the night, including from people begging for help without an obvious escape route.
The inquiry's top lawyer, Richard Millett QC, asked Ms Norman how residents could know an evacuation was later advised if they were not contacted.
She replied: "That is a really hard one, but with the amount of calls we had on that night still coming in and the amount of calls we had already received, we would not be able to continue taking 999 calls.
"The hope would be that those callers would be calling us back to say conditions had worsened so we could give them that advice."
Mr Millett responded: "So you were relying on them to call back in?"
"At that point, yes," she said.
The control room received more calls requiring fire survival guidance (FSG) that night than in all of the previous decade across the capital.
There were initially 11 staff on duty at the main office in Stratford, east London – three supervisors and eight call operators.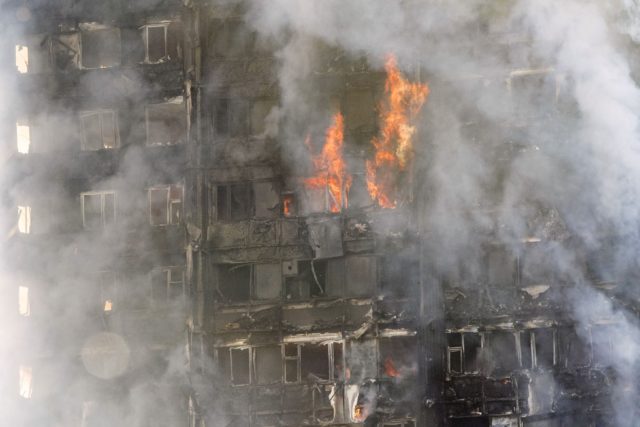 Ms Norman told the hearing at Holborn Bars on Thursday that she was "shocked" to see how quickly the fire developed, with a request for 10 engines jumping to 20 within minutes.
She spoke personally to several eventual victims of the blaze, including Denis Murphy, the 56-year-old father accidentally left behind during a bungled rescue attempt on the 14th floor.
Two of her colleagues spent nearly an hour on the phone to separate stranded residents, one of whom was 12-year-old victim Jessica Urbano Ramirez.
Mr Millett asked whether there was a specific reason why an operator would not contact an individual if the stay-put advice changes.
"It would depend on the amount of callers you needed to call back, the amount of calls coming into the control room," Ms Norman replied.
"If you have got lots and lots and lots of calls waiting to be answered and you have taken hundreds of calls already, it would be impossible to search through every single call to find the telephone number to re-contact them."
The temporary operations manager said there had never previously been an occasion where she needed to ring back someone with updated advice.
She confirmed her training dealt neither with any changes in survival advice or how to manage a major fire with numerous FSG callers.
The inquiry was told the control room did not initially realise how catastrophically the fire had spread, because their temporary base at Stratford lacked access to live helicopter footage.
Crews at the scene also failed to inform the control room how severely the blaze was escalating until most of the building was engulfed, Ms Norman said.