There are no appropriate guidelines relating to heat illness during endurance exercises in the Armed Forces, more than five years since three reservists died on an SAS selection march in the Brecon Beacons, a court heard.
Two soldiers known only as 1A and 1B have gone on trial by court martial accused of negligently performing a duty by failing to take reasonable care for the health and safety of candidates taking part in the 16-mile march.
Lance Corporal Craig Roberts, 24, and L/Cpl Edward Maher, 31, were pronounced dead on the Welsh mountain range after suffering heatstroke on July 13 2013.
Corporal James Dunsby, also 31, died at Birmingham's Queen Elizabeth Hospital from multiple organ failure more than two weeks later.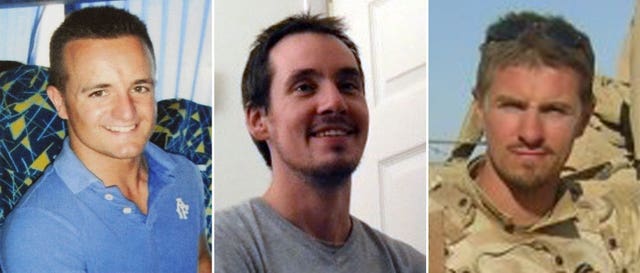 Sarah Baldwin-Jones, an inspector for the Health and Safety Executive (HSE), was asked about those failings during the trial of 1A and 1B.
"They were very serious failings, they were widespread failings and I think they were some of the most significant failings that I have found to date having dealt with the Ministry of Defence (MoD) for many years," she told the court.
The court has been told that a Joint Service Publication (JSP) to prevent and manage heat illness and cold injury, known as JSP 539, had not been read by those organising the march.
Ms Baldwin-Jones said: "If you look at the training aspect, there was a complete and utter absence of training on JSP 539.
"That was not just in relation to the regular unit, it also extended to the lead regular unit, reserve unit one, reserve unit two and to other units.
"From my investigation and subsequent investigations I don't think there was any training provided on JSP 539 to anybody in the Army or anybody in the JSP units."
The court heard JSP 539 included a table giving threshold temperatures, but these related to "one hour's exercise and a 30-minute rest".
"JSP 539 doesn't cover any endurance event, it's not able to give any advice to anyone in command," Ms Baldwin-Jones said.
She said annual fitness tests had been "outside the remit" of the document, which has been altered since the deaths.
Ms Baldwin-Jones claimed the impact on the body of endurance exercises in heat was "not currently able to be defined" in JSP 539.
"There's no guidance on this, even today," she told the court. "In my view, it is a fundamental error."
The inspector, who has 18 years experience, said that even if personnel had read JSP 539, there was no guidance for how to interpret it.
If there is one casualty suspected of suffering heat illness, the document states that stopping the exercise must be considered if the operational environment allows.
An anonymity order protects the identity of a number of people and organisations that feature in the court martial.
This includes "MoD A-Block", which refers to an organisation within Joint Forces Command.
Ms Baldwin-Jones said her report identified multiple failings that could not be attributed to one individual.
"In my opinion, this should be fairly and squarely with A-Block," she said.
The issue was firstly of training and then of making people aware of what their roles required, she told the court.
But Ms Baldwin-Jones said that if training had been provided, those in charge of the march would not have known what action to take on.
"A-Block really have failed in their communications to all of these units," she told the court.
"What is it they are expected to do when something crops up like a case of heat illness?
"What are they to do? Do they stop? Will A-Block allow that? I doubt that would have been the case but that communication was missing."
The five-strong board was told Ms Baldwin-Jones's report identified a "reliance on generic risk assessments".
Prosecutors claim 1B wrote a risk assessment and 1A signed it in a "rubber-stamping exercise". They were the safety officers for the march.
Ms Baldwin-Jones said she had not been able to identify any personnel who had received training on carrying out risk assessments.
"If you require someone to do a risk assessment you have to provide them with the relevant training," Ms Baldwin-Jones told the court.
"None of these things were done."
The court heard Ms Baldwin-Jones prepared a Crown censure in the case.
This is where the HSE summons a Crown employer to be censured for a breach of the Health and Safety at Work Act which – if they did not have Crown immunity – would have led to prosecution.
"It doesn't mean the charge is any less and the evidence that is put before the MoD is exactly the same," Ms Baldwin-Jones said.
"We work in exactly the same way. The only difference is we technically can't fine or imprison anybody for that offence."
1A was a captain and the training officer in charge of the march, while 1B was a warrant officer and the chief instructor on the exercise.
Prosecuting, Louis Mably QC previously alleged that their failings were "basic and fundamental" in planning and conducting the march.
Thirty-seven reservists and 41 regular troops took part in the exercise, which was part of the aptitude phase for selection for a special military unit.
The march was 26km or 16 miles as the crow flies – though those taking part were expected to cover almost 30km or 18.5 miles – and had to be completed in eight hours 45 minutes.
Candidates carried a backpack weighing between 22kg and 27kg as well as a dummy rifle.
The Wet Bulb temperature, which takes factors such as wind and humidity into account, was 31.2C on that day.
L/Cpl Roberts was originally from Penrhyn Bay in North Wales, L/Cpl Maher, was from Winchester in Hampshire, and Cpl Dunsby was from Trowbridge in Wiltshire.