Theresa May has been told her Brexit plans need to be "reworked" as time runs out to reach a deal with the European Union.
European Council president Donald Tusk said the Prime Minister's Chequers blueprint was a "welcome evolution" in the UK's approach, but major issues remained to be resolved including avoiding a hard border in Ireland and the future trading relationship between Britain and the EU.
Warning that there was "less and less time" to reach a deal before the UK's March 29 2019 exit date, Mr Tusk confirmed he would propose an emergency EU Brexit summit in November.
His comments came as the Prime Minister prepared to address her EU counterparts at a meeting in Salzburg, the first such gathering since the Chequers plan was published.
Mrs May will use the meeting to say that now the UK has showed it is willing to "evolve" its position, the EU must also be prepared to show flexibility.
But, in a blow to her efforts to persuade fellow leaders of the viability of her plan, it emerged that her former Brexit secretary David Davis has described Chequers as a "non-starter".
In extracts of a speech he plans to deliver in Munich on Thursday, Mr Davis said the PM's plan crossed all of her own negotiating red lines.
And he said: "Chequers is devoid of democracy altogether. This is why many of us will shortly be presenting an alternative plan which will outline a more ambitious vision."
Mr Tusk told reporters in Salzburg: "The Brexit negotiations are entering the decisive phase.
"Various scenarios are still possible today but I would like to stress that some of Prime Minister May's proposals from Chequers indicate a positive evolution in the UK's approach, as well as the will to minimise the negative effects of Brexit."
Those positive areas included foreign and security policy co-operation, he said.
But in a blow to Mrs May's approach, he said: "On other issues such as the Irish question or the framework for economic co-operation the UK's proposals will need to be reworked and further negotiated".
"Today there is perhaps more hope, but there is surely less and less time," he added, as he confirmed he would propose a mid-November summit.
Efforts to find an acceptable way to avoid a hard border between Ireland and Northern Ireland suffered a further setback as Mrs May's DUP allies poured cold water on the latest EU offer.
Ahead of the summit in Austria, the EU's chief negotiator Michel Barnier said he was ready to come forward with a new offer on the Irish border.
In order to "de-dramatise" the main obstacle to a withdrawal deal, Mr Barnier suggested arrangements could be made to conduct the majority of checks on imports and exports away from the border itself.
But the Democratic Unionist Party, which props up Mrs May's minority administration in Parliament, dismissed Mr Barnier's proposals as unpalatable, because they would involve a customs border between Northern Ireland and the rest of the UK.
"It still means a border down the Irish Sea although with different kinds of checks," said the party's deputy leader Nigel Dodds.
"The fact is that both Theresa May and the Labour Party have said no British prime minister could accept such a concept. It is not just unionists who object."
The Department for Exiting the EU welcomed the commitment by Brussels to resolving the issue, but stressed Britain "could not accept Northern Ireland being separated off from the UK customs territory".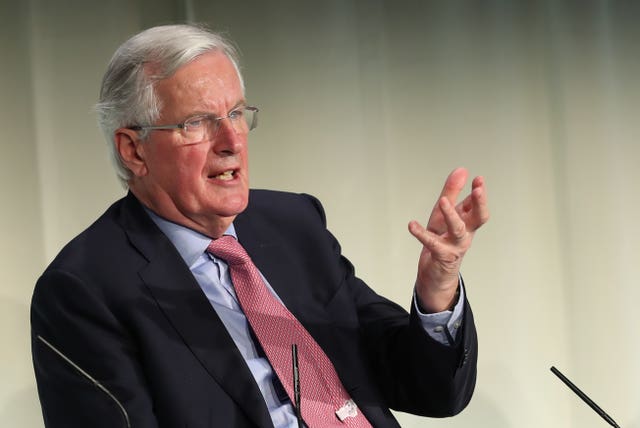 Despite Mrs May insisting the choice was between her deal or no deal, Treasury minister Mel Stride appeared to suggest that a second poll was still a possibility.
Mr Stride told Sky News: "When we have a firm deal on the table, I suspect that those to the right of the party – the pro-Brexit wing – will be very concerned that if that deal does not prevail, they will end up in the situation where we could have a second referendum or we could end up not leaving the EU altogether, so there is a danger of that happening if Chequers does not prevail."
Mr Tusk's intervention in Salzburg came just hours before a working dinner at the Felsenreitschule – the theatre where the Von Trapp family performed before fleeing the Nazis in The Sound Of Music movie – where Mrs May will set out her plan and explain why Brussels should show more flexibility to give her the support she needs.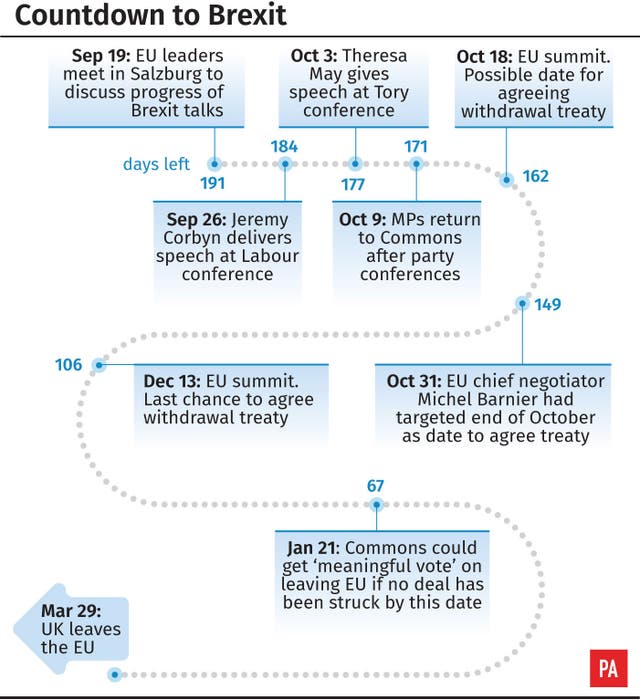 The Chequers blueprint – a "common rulebook" for trade in goods and "business-friendly facilitated customs arrangement" – is the only way to resolve the thorny issue of the border between Northern Ireland and Ireland, she said.
"It is profoundly in both sides' economic interest, it respects the integrity of the single market and, crucially, no-one else has come up with a proposal that could command cross-community support in Northern Ireland that is the only true foundation for stability there," she said.
Mrs May added: "Neither side can demand the unacceptable of the other, such as an external customs border between different parts of the United Kingdom – which no other country would accept if they were in the same situation – or the UK seeking the rights of EU membership without the obligations."
Mrs May is expected to use the Salzburg summit to hold formal face-to-face talks with Belgian premier Charles Michel on Wednesday and Ireland's Leo Varadkar and Mr Tusk on Thursday.
She may talk to other leaders in the margins of the summit in an effort to win backing for a plan which has met fierce resistance from within the ranks of her own Conservative Party.