Storm Bronagh will bring gusts of 70mph as parts of the UK are battered by strong winds and heavy rain.
The second named storm of the season comes just a day after two people were killed during Storm Ali and will likely cause problems during the Friday rush hour due to the possibility of fallen trees.
The Met Office and Met Eireann named the low pressure system Storm Bronagh and said injuries and danger to life from flying debris is possible.
The latest weather warnings come after a Swiss holidaymaker was killed when the caravan she was in was blown down a rocky incline in Co Galway while a worker in a forest park in Co Armagh died after he was hit by a tree.
Storm Bronagh is expected to be at its peak in the early hours of Friday morning as it moves across the Midlands and south-east England.
Heavy rain fell throughout Thursday, with 56.4mm recorded in Sennybridge in Wales.
The greatest wind speed in the UK was also recorded in Wales, with gusts of 61mph at Mumbles Head.
The storm is expected to bring gale force winds overnight into Friday, with wind gusts of 45mph-50mph predicted around exposed coasts and at some spots inland, as well as the possibility of some gusts of up to 65mph.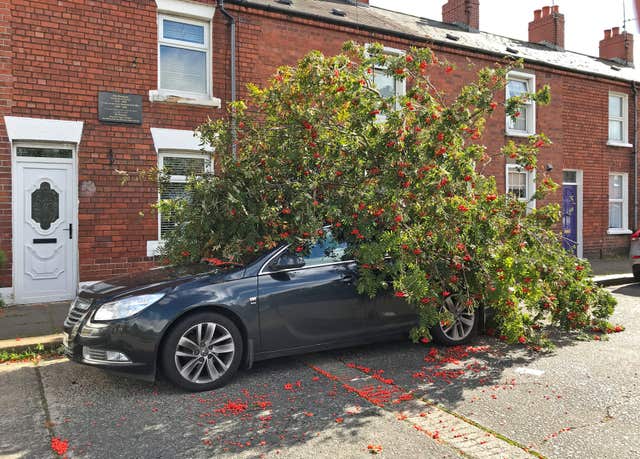 Met Office forecaster Simon Partridge said there could be gusts of up to 70mph on Friday, adding that it will be the first time this season that south east England will be tested by strong winds.
"The first storm to reach an area each year usually has some fairly significant impacts because all the things you didn't realise were diseased or rusted or whatever, that's the first time you know about it – when the first winds arrive," he said.
The Met Office alert warns of the risk of roof tiles blowing off, trees and branches falling and flying debris generally.
On Friday morning there were three flood warnings in place for Lyme Brook at Newcastle-under-Lyme and Trent Vale in Staffordshire, the River Hipper at central Chesterfield in Derbyshire and the River Rother at Tapton in South Yorkshire.
More than 30 flood alerts were in place for at-risk areas across the north of England and West Midlands.
Pictures posted on social media showed vehicles with flood water up to their bumpers on a road said to be between between Sheffield and Rotherham.
East Midlands Trains said there had been severe flooding in Sheffield station, adding that heavy flooding had resulted in trains having to run at reduced speeds.
Highways England's head of road safety Richard Leonard urged people to plan their journeys, to take extra care and to allow more time.
"In high winds, there's a particular risk to lorries, caravans and motorbikes, so we'd advise drivers of these vehicles to slow down.
"Drivers of other vehicles should be aware of sudden gusts of wind which can affect handling and braking, and give high-sided vehicles, caravans and motorbikes plenty of space," he said.
South Yorkshire Fire posted on Twitter about a cat which got stuck up a tree when it was "absolutely tipping it down".
Pictures showed a fire crew at the base of a tree with a ladder and a fire fighter at the top rescuing the cat called Buckley.
On Wednesday, a wind gust of 91mph was recorded in Co Down, the strongest in September in Northern Ireland since records began.
In Co Galway, a woman, named locally as Elvira Ferraii and said to have been aged in her 50s, died when the caravan she was staying in at the remote beauty spot in Clifden ecoBeach Camping and Caravan Park blew off the cliff and smashed on to the beach below.
A falling tree in Co Armagh killed Matthew Campbell, from Belfast. Mr Campbell, who was aged in his 20s and engaged to be married, was working for a construction company on behalf of public utility Northern Ireland Water in Slieve Gullion Forest Park. One of his colleagues was seriously injured in the incident.
In Cheshire, a woman was seriously injured after a tree fell onto her car, and in the Highlands a man had to be rescued after becoming trapped under a digger in a river in the village of Rogart.
The unsettled weather is set to continue with another weather system forecast to bring more wind and rain across parts of the UK on Sunday and into Monday.