Theresa May has been warned Britain is "staring down the barrel of no deal" after she issued a defiant Brexit challenge to the EU.
A day after her humiliating rebuff from EU leaders in Salzburg, the Prime Minister came back fighting, warning Brussels there could be no further progress in Brexit talks unless it put forward fresh ideas on Northern Ireland and trade.
Standing at a lectern before two Union flags in 10 Downing Street, a steely-faced Mrs May said the EU's dismissal of her Chequers plan without an explanation was "not acceptable" and demanded "respect" for the UK from Brussels.
"No-one wants a good deal more than me, but the European Union should be clear – I will not overturn the result of the referendum, nor will I break up my country," she said.
"We need serious engagement on resolving the two big problems in the negotiations and we stand ready."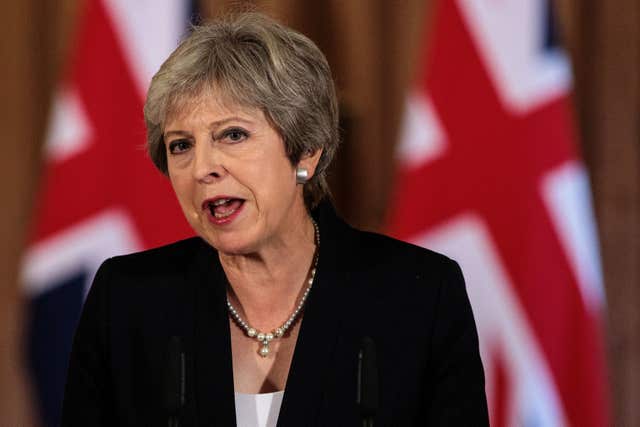 She issued promises that, if no deal is secured, the rights of 3 million expats will be protected and the Government will do "everything in our power" to prevent a hard border in Northern Ireland.
European Council President Donald Tusk said EU leaders had studied the Chequers plan "in all seriousness" and had issued their warning it would not work in response to the "surprisingly tough and in fact uncompromising" stance taken by Mrs May.
Despite the furious row, he said that he believed that a deal could still be reached.
"While understanding the logic of the negotiations, I remain convinced that a compromise, good for all, is still possible. I say these words as a close friend of the UK and a true admirer of PM May," he said.
The pound plummeted following Mrs May's speech, giving up four days of gains on the US dollar to shed 1.5% and close at 1.30 in London. Versus the euro, the British currency was down over 1% at 1.11.
Leading Tory Brexiteer Jacob Rees-Mogg welcomed the PM's "strong and forthright" tone, but said it was time for her to ditch Chequers and go for a simple Canada-style free trade agreement with the EU.
Cabinet minister Penny Mordaunt said she believed that voters "still want a deal but (are) content to go without one".
Labour leader Jeremy Corbyn said Mrs May had shown herself "incapable of delivering a good Brexit deal", and shadow Brexit secretary Sir Keir Starmer accused her of being "in denial".
"The Prime Minister's negotiating strategy is collapsing around her and that's why we're in this impasse and the country is staring down the barrel of no deal," said Sir Keir.
In Brussels, one EU official said: "The Commission is, and will continue, working constructively, as President (Jean-Claude) Juncker outlined in his State of the EU speech."
Mrs May promised to draw up alternative proposals to unblock the Irish border issue ahead of a crunch summit on October 18 – described as the "moment of truth" by Mr Tusk.
But she stood by the blueprint agreed by the Cabinet at her country residence in July as "the best way" to protect jobs in Britain and Europe and to avoid a hard border on the island of Ireland.
She blamed the EU side for failing to explain its objections to her blueprint, which would see the UK enter a free trade area for goods with a "common rulebook" or to put forward its own ideas.
Far from accepting the message of EU leaders in Salzburg that it was for the UK to come up with credible new proposals over the next four weeks, Mrs May said the ball was now in Brussels's court.
"At this late stage in the negotiations, it is not acceptable to simply reject the other side's proposals without a detailed explanation and new proposals," she said.
"So we now need to hear from the European Union what the real issues are and what their proposals are so we can discuss them.
"Until we do, we can't make progress."
Mrs May said that Brussels's "backstop" proposal to keep Northern Ireland in the EU customs area unless a better solution can be found was "unacceptable" to Britain because it would create a customs border down the Irish Sea.
Her new alternative would "preserve the integrity of the UK" while delivering on a commitment not to establish new regulatory barriers with the rest of the UK without the agreement of the Executive and Assembly in Belfast.
Her position was welcomed by DUP leader Arlene Foster, who said: "The Prime Minister is right to stand firm in the face of disrespectful, intransigent and disgraceful behaviour by the European Union. The United Kingdom will not be treated in such a manner."
In a possible sign that she was smarting over Mr Tusk's mocking Instagram photo, showing him offering her a cake with the caption "Sorry, no cherries", Mrs May made a point of stressing that she had always shown respect towards her EU counterparts.
Mrs May said: "As I told EU leaders, neither side should demand the unacceptable of the other.
"We cannot accept anything that threatens the integrity of our union, just as they cannot accept anything that threatens the integrity of theirs.
"We cannot accept anything that does not respect the result of the referendum, just as they cannot accept anything that is not in the interest of their citizens."
Liberal Democrat leader Sir Vince Cable said the Chequers plan was "dead as a dodo, killed in London by Tory fundamentalists", while Green MP Caroline Lucas said the current deadlock was "predictable" and Mrs May's response "pathetic, painful and petulant".