A judge has said former BHS owner Dominic Chappell gave "entirely unbelievable" evidence as she dismissed his appeal against conviction for failing to provide information to the Pensions Regulator (TPR).
The 51-year-old ex-racing driver was ordered to pay more than £87,000, including a £50,000 fine, after being found guilty in January of failing to provide information to TPR about the firm's pension
schemes when it collapsed with the loss of thousands of jobs.
Chappell was issued with two notices, known as section 72s under the Pensions Act 2004, in March and April 2016 before being handed a warning notice in November that year.
Alex Stein, prosecuting, told the appeal hearing at Hove Crown Court that the "crux" of the case was that Chappell "failed to respond" to the three statutory notices.
Chappell claimed he "did everything in his power" to help TPR but had been "drowning in paperwork" as he was investigated by five Government departments.
Judge Christine Henson QC, overseeing the appeal with two magistrates, criticised Chappell for his "evasive and unbelievable" evidence to the court.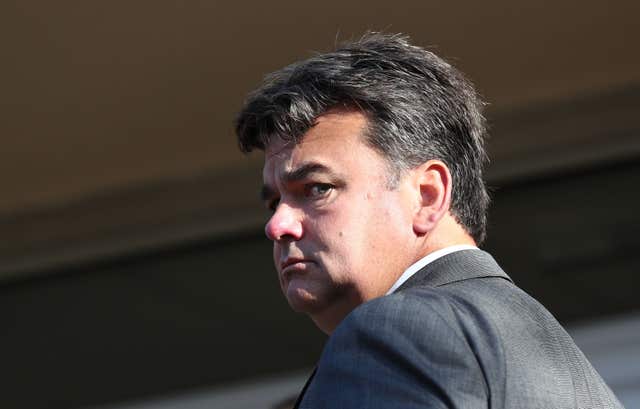 "We are sure Mr Chappell had access to information which would allow him to answer the majority of information required by the first two notices.
"In evidence, Mr Chappell consistently tried to avoid answering the question asked as well as being evasive about his business dealings.
"We find his evidence entirely unbelievable at what he described as his inability to access any of the relevant documents."
She added that Chappell gave a "completely unbelievable" account over his claim that all his documentation regarding BHS had been on a single memory stick which had been seized by HM Revenue and Customs.
Judge Henson also said claims by Chappell that his solicitor had some of the required information were "completely untrue" as "it's completely incomprehensible that a qualified instructing solicitor
armed with material to support the defence of his client would sit in court and do nothing in this regard".
The director of Retail Acquisitions bought British Home Stores for £1 from billionaire Sir Philip Green in March 2015.
BHS went into administration in April 2016, leaving a £571 million pension deficit. Sir Philip later agreed to pay £363 million towards this.
TPR investigated after the sale over concerns about two pension schemes representing 19,000 members of staff.
Judge Henson adjourned the re-sentencing of the three offences to a date to be fixed to allow Chappell to present details of his income.
His solicitor, Michael Levy, told the court that Chappell was on the brink of bankruptcy which meant he was unable to afford the £50,000 fine previously issued.
He also faces court costs of £37,000 for the magistrates' court trial and £33,000 for the crown court appeal.
Mr Levy said his client was still subject to financial penalties including £20,000 by the Insolvency Service and added: "The financial situation is grim."
He added that in order to pay the court fine, Chappell "would have to borrow from his father, he will have to rely on friends and family to try to help".
Speaking outside court, Chappell said: "I cannot comment as sentencing has not taken place but I am looking at appealing the judgment."
A TPR spokesman said: "We are pleased that the court has confirmed that Dominic Chappell was wrong when he failed to provide us with information we required as part of our BHS investigation.
"Three different judges have now criticised his behaviour and he is left with a criminal conviction.
"This case should stand as a further warning to others that if we require information from them and they fail or refuse to provide it, they should expect to be prosecuted and convicted."