The Duchess of Sussex described as "spectacular" her introduction to the art and culture of the Pacific during her first solo event and shared the famous Maori greeting.
Looking confident and relaxed as she stepped out on her own, Meghan greeted members of Ngati Ranana, a London based Maori cultural group, after they had sung at the Royal Academy of Arts, which is staging the exhibition.
Stylish in a black Givenchy dress the duchess was taken to four specific pieces from Australia, New Zealand, Fiji and Tonga, nations she will be visiting in October on her first major overseas tour with Harry.
Some of the group, called the Mata Aho Collective, also welcomed Meghan with the traditional Maori greeting.
Artist Sarah Hudson said: "We thought it might be a nice bit of practice before she comes to the Pacific next month and it's nice to be able to practice something that's customary for us.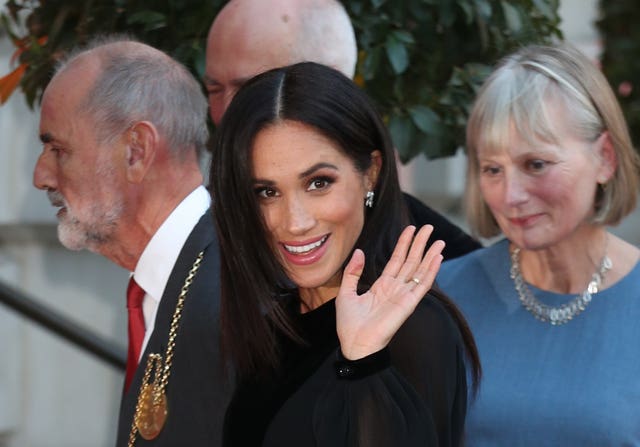 The exhibition celebrates the art of Melanesia, Micronesia and Polynesia, encompassing the vast Pacific region including New Guinea, Easter Island, Hawaii and New Zealand.
It also marks the 250th anniversary of the Royal Academy, which was founded in 1768, the year Captain James Cook set out on his first Endeavour expedition
Ms Reihana, who has a large video mural showcased at the event, added: "She was saying how much she enjoyed the exhibition and how special she thought it was.
"She also thought it was a great introduction to the sights and sounds of that part of the world, she was looking forward to it."