Tories are the party of racism, a "daughter of Windrush" has told the Labour conference.
Delegates in Liverpool heard a motion to scrap the Immigration Act 2014 that enshrined the hostile environment policy in law.
The move followed the Windrush scandal, which saw the wrongful deportation of more than 60 British citizens who were part of the generation of Caribbean immigrants who arrived on board the Empire Windrush in 1948.
Shadow home Secretary Diane Abbott, who campaigned for justice for those wrongly deported or denied healthcare and benefits, has set out how she wants to unravel the hostile environment policy.
Ms Abbott said "false and toxic rhetoric" on protecting borders and immigration "led directly to the Windrush scandal".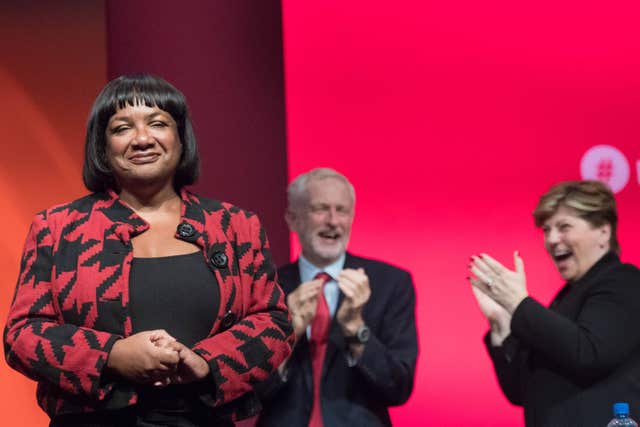 "Which refuses them cancer treatment even when they've lived in the country all of their adult lives?
"Well, under this government we saw this happen to the Windrush generation."
Speaking in favour, Cecile Wright from Derby North described herself as a daughter of Windrush and said the scandal was "a crime against humanity".
She said: "Prominent Tories have for decades sought to remove, stigmatise or use racist name-calling ever since the Windrush generation arrived in this country in 1948.
"Indeed, it was the Tory Enoch Powell who wanted us repatriated to avoid the rivers of blood.
"It was the Tory Margaret Thatcher who told us the country was being swamped by immigrants.
"It was the Tory Boris Johnson who has used the racist jibes of watermelon smiles and pickaninnies, and the Tory Theresa May who devised a hostile environment policy and removed as many black Caribbean people as possible to keep down the net migration figures."
Ms Wright asked delegates to consider the common link between the figures, and told them: "The Tories are the party of racism.
"Let us all in the Labour party unite against racism, for it is the Tories we need to oppose."
John Campbell from Unison also spoke in favour, saying the Windrush generation had been "hounded" by the Conservative government, which had left British citizens "destitute and homeless".
He said: "Fascists and racists have been encouraged to commit greater acts of violence, openly embracing white supremacy.
"We must bring the might of the Labour movement to bear against the hostile environment we face.
"This goes to the heart of our fight for social and economic justice."