Michael Gove is considering a "Natasha's law" on food labelling after the death of a teenager who suffered an allergic reaction to a Pret A Manger sandwich.
The Environment Secretary said on Monday he has instructed civil servants to investigate a law change after 15-year-old Natasha Ednan-Laperouse's death highlighted the "importance of acting urgently".
Natasha, from Fulham, south-west London, collapsed after eating an artichoke, olive and tapenade baguette on a flight in July 2016.
The coroner at her inquest last week said she died of anaphylaxis after eating the Pret sandwich containing sesame, which she was allergic to.
Her father said she died because of "inadequate food labelling laws", and joined the rest of her family in calling for a change in the law to save lives.
Mr Gove told ITV News the family is "absolutely right" to say the law needs to be changed, and added: "I think their case is compelling and we need to act quickly in order to ensure that we have the best possible protection in place."
Asked if it should be named "Natasha's law", he replied: "I think it would be an immensely fitting and appropriate tribute to recognise the campaigning work of Natasha's parents and to recognise that this tragic loss which has broken their hearts."
Currently, non-prepackaged foods do not have to a have a specific allergen label attached to food.
Pret's outlets typically have adjacent kitchens allowing for "incomplete labelling of food products", according to Dr Richard Hyde, associate professor in law at the University of Nottingham.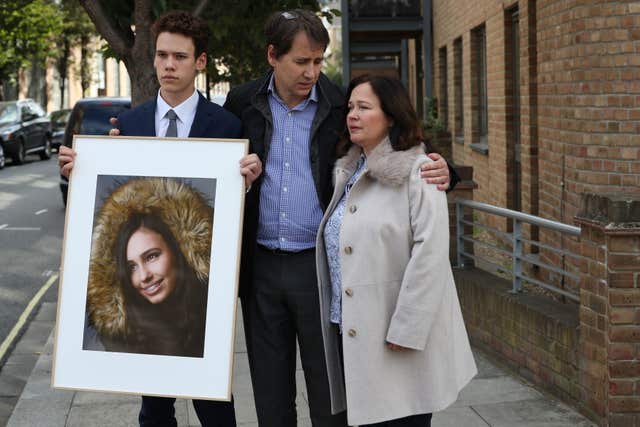 Mr Ednan-Laperouse has vowed to get "justice" so that "no-one else should suffer such a needless and pointless death".
He celebrated Mr Gove's intervention, telling Channel 4 News it is "really welcome".
Pret boss Clive Schlee said the food chain was "deeply sorry" after Coroner Dr Sean Cummings recorded a narrative conclusion at West London Coroner's Court on Friday.
Mr Schlee said the firm wants to see "meaningful change" come from the tragedy.