Any bid to topple Theresa May as Tory leader by hardline Brexiteers would trigger "collapse and disarray", a prominent minister has said.
Foreign Office Minister Sir Alan Duncan insisted Tory MPs seeking to oust the Prime Minister represented a fringe element.
The comments came as Ireland's deputy prime minister Simon Coveney accused leading arch-Brexiteers of peddling "crazy" ideas about the impact of a no deal withdrawal from the EU.
Warning against a move to replace the PM, Sir Alan told the BBC: "Don't believe all those things you read in the newspapers and take it that there are a lot of numbers behind the noise.
"And that's where you need to apply a lot of political judgment to work out whether the complainers are just a fringe, or whether they represent the main body of opinion in the middle.
"The main body of opinion in the middle and right to the edges is absolutely solidly behind her.
"Because the idea that we can go for anybody else at the moment is just folly.
"It would lead to collapse and disarray.
"It's not a credible option."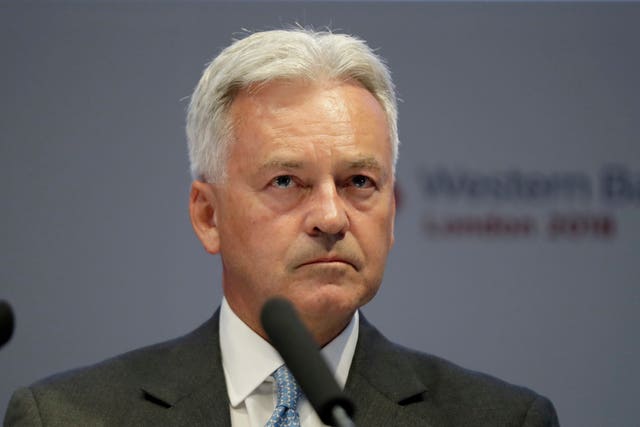 "But, he's a great media phenomena.
"And, so wherever he goes there's a media crush.
"But, that's not the same as someone who should be running the country."
The comments came after Mr Coveney singled out leading Brexiteers like Mr Johnson and Jacob Rees-Mogg for criticism.
Mr Coveney's rebuke came as Dublin urged Mrs May to bring forward her proposals to break the deadlock in the Brexit talks over the Northern Ireland border.
When it was put to him that Brexiteers believe the Republic would not erect a border in a no deal scenario, Mr Coveney told Channel Four News: "That is a crazy argument."
"I always say when I'm confronted with comments that Boris Johnson has said, or Jacob Rees-Mogg has said, or indeed, Owen Paterson have said – you know, fine people who I know and I've worked with in other areas – I believe that they are not describing the full picture or its complexity in Ireland and the challenges we face here."
The comments came after Dublin's Europe Minister, Helen McEntee, said she was confident a deal could be done but that the negotiations were reaching a "critical point".
Her remarks followed Taoiseach Leo Varadkar holding talks in Brussels on Thursday with European Council president Donald Tusk and the EU's chief negotiator, Michel Barnier.