Scotland's councils will play an essential role in preparing for the "extremely serious" consequences of Brexit, the First Minister has said.
With the UK due to formally leave the European Union in less than six months, Nicola Sturgeon told senior council figures the Scottish Government is carrying out a "significant" amount of work to mitigate the impact of the UK's exit.
She stressed local authorities also have a vital role to play, and pledged ministers would support them.
The First Minister made the commitment as she addressed the local government body Cosla's annual conference in St Andrews.
Council chiefs, including those in Scotland's largest authority Glasgow City Council, have recently raised concerns about possible food and fuel shortages in the wake of Brexit.
Ms Sturgeon said Brexit, combined with the UK Government's future approach to immigration, would have "extremely serious consequences".
The First Minister said: "There is no doubt that the most pressing challenge facing our country at this time comes from Brexit, and the UK Government's approach to post-Brexit immigration will have extremely serious consequences for communities across Scotland."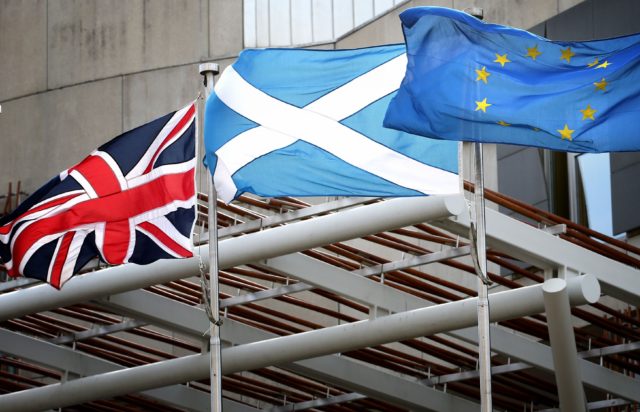 "As a result, we now face the very real prospect – and it is now in my estimation a very real prospect – of exiting the EU in the most damaging way possible."
Ms Sturgeon continued: "I know that Cosla is also leading preparations for Brexit, on behalf of its members. For example, you recently rolled out a survey across local authorities to identify the sectors which will be most affected by workforce issues arising from Brexit.
"We welcome the leadership that has already been shown. Local government has an essential role to play in preparing for the impact for Brexit and the Scottish Government is ready to support you in your efforts.
"The Scottish Government continues to argue for a sensible approach to Brexit, which would see the whole of the UK remaining in the single market and the customs union, if staying in the EU is not possible.
"However, we also recognise the need to prepare, as best we can, for other Brexit scenarios. That is why the Scottish Government is undertaking a significant programme of contingency planning."
Earlier, Lord Reid told the conference that any Brexit deal should be put to a public vote.
The former Labour home secretary said: "We are now in a position that when the terms are known, when we can weigh up what those arrangements mean compared with what we have now, it's only right that the people of this country have a final, fully-informed say.
"The people took the first say, only the people should have the final say. It should be truly a people's vote."