When Princess Eugenie's parents married, Britain was in the grip of "Fergie Fever".
A worldwide television of 500 million tuned in to watch Prince Andrew and Sarah Ferguson say their marriage vows in a lavish ceremony in Westminster Abbey.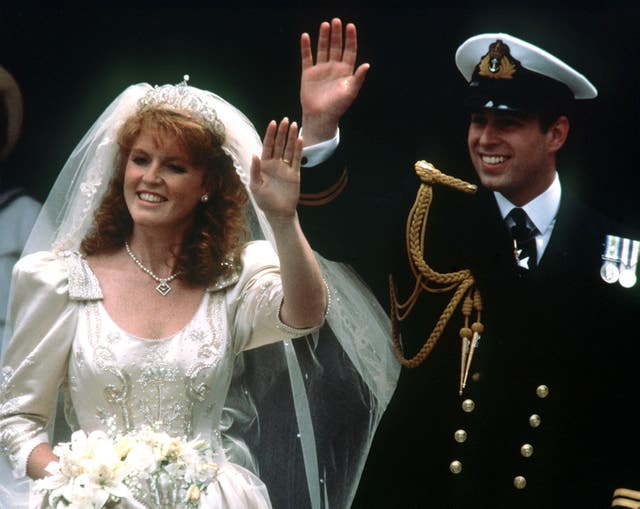 Many staked out their places the day before, making the most of the summer sunshine.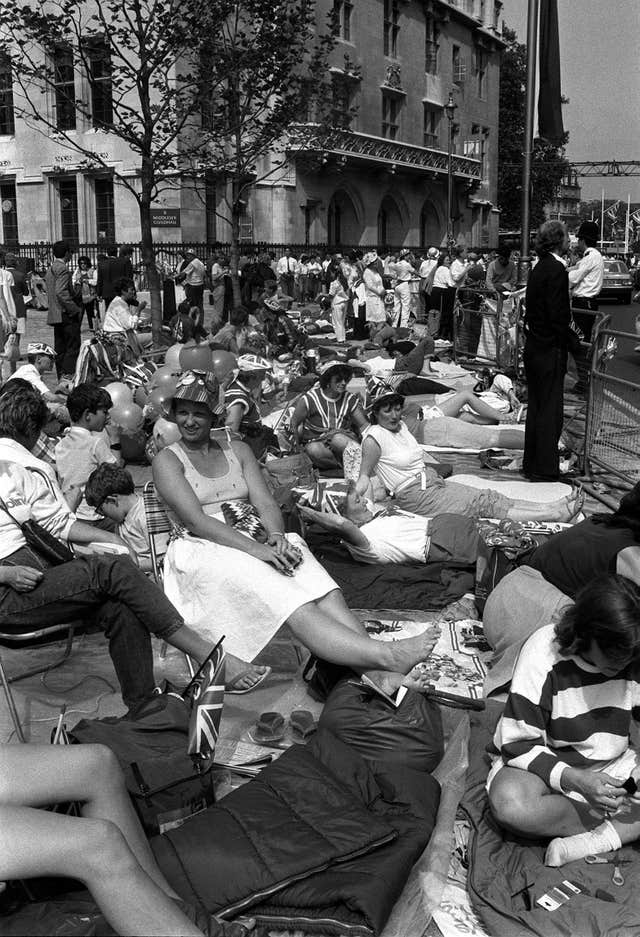 Two thousand guests including 17 foreign royals, US First Lady Nancy Reagan and Prime Minister Margaret Thatcher gathered in the gothic Abbey, which was decorated with 30,000 flowers.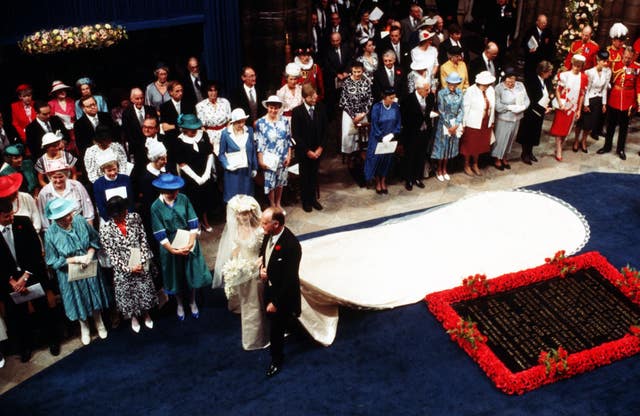 She also pledged to obey her husband.
Her dress was by Lindka Cierach and made of ivory duchesse satin with a scoop neckline and featured a bodice detailed with intricate embroidery and beading and a large bow-adorned bustle.
Her 17ft (5.2m) train incorporated bumblebees, anchors in a nod to Andrew's naval career, thistles, flowers and the large intertwined initials A and S.
The duke wore the ceremonial day dress of a naval lieutenant.
Zara Phillips, dressed in peach, was a bridesmaid, and four-year-old Prince William was a pageboy, in boater hat and sailor outfit.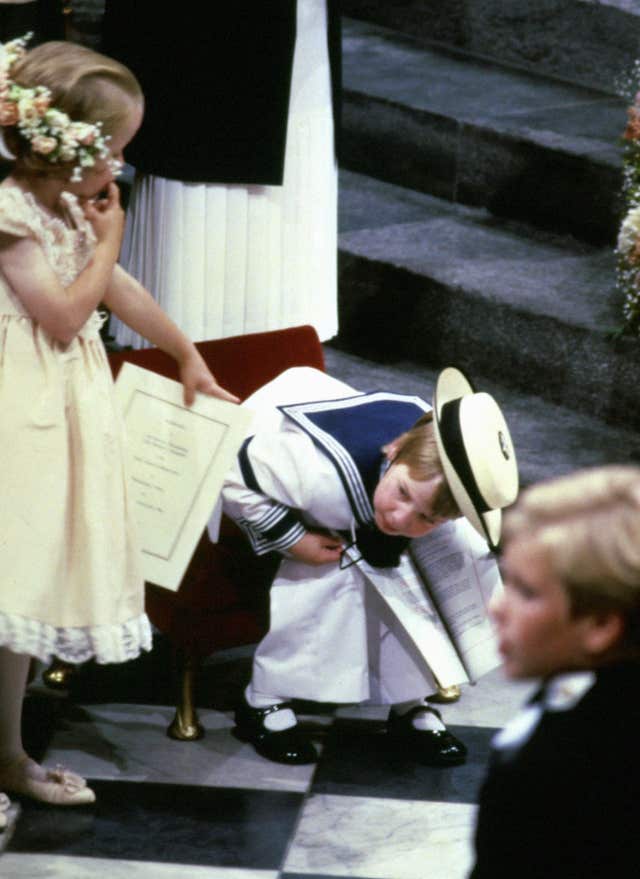 The newlyweds rode back to Buckingham Palace in the open-topped 1902 State Landau and giggled and shared a romantic kiss on the balcony of the Palace.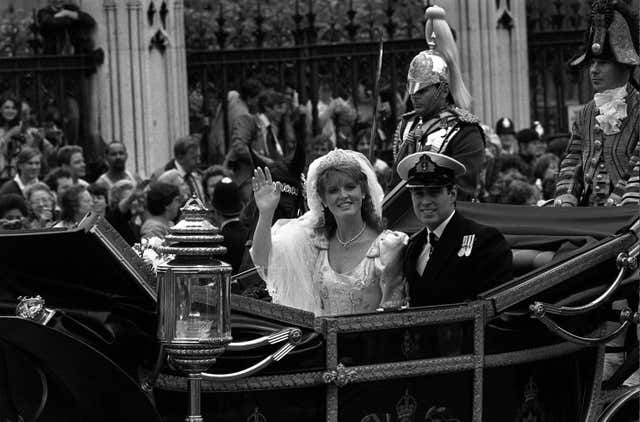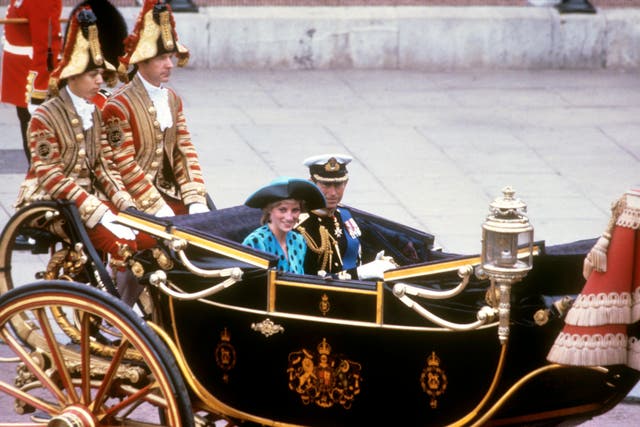 The New York Times wrote that Britain was in the grip of "Fergie Fever" and said of the duchess: "She likes horses, swimming, tennis, champagne, spinach souffles, Trivial Pursuit, the Rolling Stones, Duran Duran, the high-grade pulp novels of Jilly Cooper, and Philip Morris cigarettes, which she is trying to give up in deference to the British royal family's aversion to smoking."
But the fairytale was not to last forever.
Exuberant, fun loving "commoner" Fergie, who was seen at the time as a breath of fresh air, later confessed: "I was hopeless from the start…
"They could never make me the perfect princess."
Their first daughter Princess Beatrice was born in 1988, followed by Princess Eugenie in 1990.
The gaffe-prone duchess was criticised in the press for her frequent overseas trips and cruelly attacked for her weight.
Six years after they wed, in March 1992, it was announced that the duke and duchess were to separate.
Five months later, the Queen's peaceful annual holiday at Balmoral was
shattered by publication of the "toe sucking" photographs.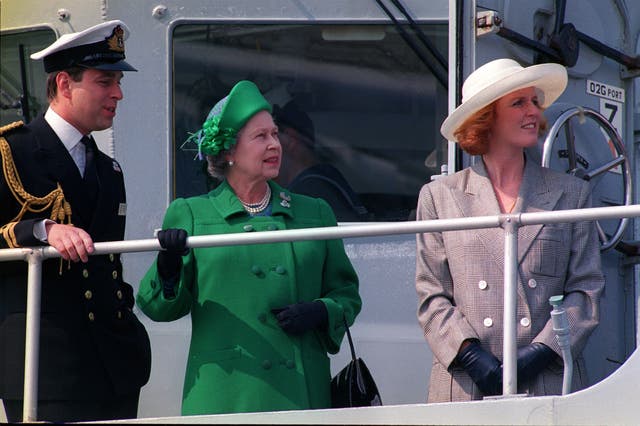 Sarah was also staying at Balmoral at the time and the royals came across the pictures as they sat down to read the daily newspapers at the breakfast table.
It paved the way for her exit from life with the Windsors.
"I was a non-person in the Family; any future I might have had there was now irrevocably ended," she wrote in her autobiography.
The couple eventually divorced in May 1996.
But they have remained close friends and strong supporters of one another amid repeated rumours they might one day even remarry.