Key questions about the Government's Universal Credit scheme, as ex-work and pensions secretary Iain Duncan Smith warned the welfare reform needs an additional £2 billion to operate as planned.
He spoke after former prime minister Sir John Major called for a rethink of the national rollout.
– What is Universal Credit?
UC replaces six existing benefits – Income Support, Income-based Jobseeker's Allowance, Income-related Employment and Support Allowance, Housing Benefit, Working Tax Credit and Child Tax Credit – with a single payment.
– When is it being introduced?
UC is being rolled out gradually across the country, starting in pilot areas in 2013. So far, only new benefit claimants have been put onto the system.
But from July 2019, around 2 million people already receiving the old benefits will be moved onto UC, in a "managed migration" which is not due for completion until 2023.
– Who will be affected?
Among those being moved to UC will be about 1 million working families and 745,000 people unable to work because of long-term illness or disability.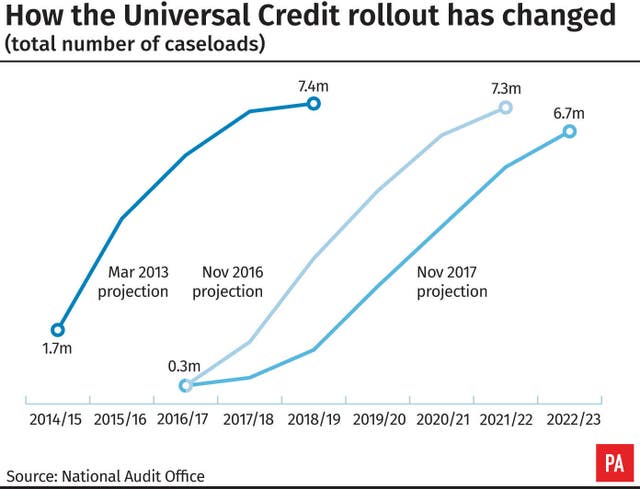 The Government has provided a pot of money for "transitional protection", which ministers say will ensure that no existing claimants suffer a cut to payments in cash terms unless their circumstances have changed.
– Will there be a wait for payments?
UC is paid in arrears, and the first payment is not made until at least five weeks after a claim is lodged. Claimants can apply for advance payments to avoid hardship while they wait.
– Why is UC being introduced?
Ministers say that the new system is simpler and easier to understand than the old benefits. They believe it creates incentives for claimants to take on temporary work or increase hours.
Work and Pensions Secretary Esther McVey says that when UC is fully rolled out, it will deliver £8 billion of benefits to the UK economy per year.