Fresh landslips caused by Storm Callum as it sweeps the west of Scotland will keep the Rest and be Thankful closed over the weekend.
Heavy rain and strong winds brought 300 tonnes of debris from the hillside on to the A83 in Argyll and Bute on Friday as operators tried to clear landslips from earlier in the week.
The closure has caused a diversion of almost 60 miles for motorists but with the weather not expected to improve until Saturday, Bear Scotland said the A83 will remain closed for the weekend.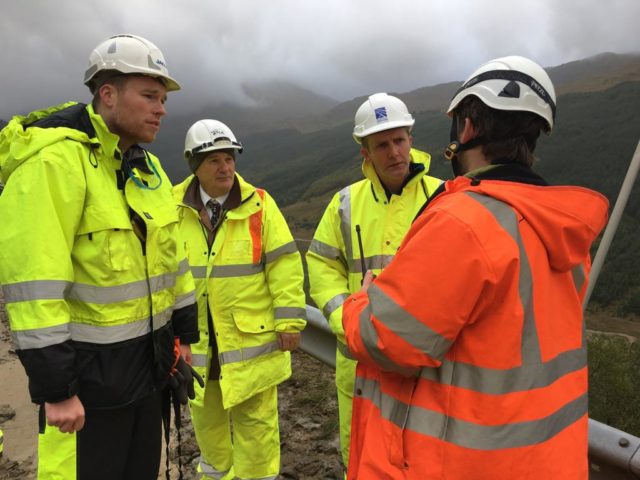 "I saw for myself this morning the size of the challenge with secondary slips complicating matters and delaying use of the Old Military Road diversion route.
"It is a dynamic situation on the hillside. There are warnings of further heavy rain, and while every effort is being made to get traffic moving, today's events reinforce the need for a safety-first approach.
"I understand that local residents and businesses are being inconvenienced as a result of these events and I would like to thank them for their patience during the disruption."
Yellow Met Office warnings are in place for wind and rain in the Highlands and Islands and Strathclyde areas throughout Friday.
Forecasters said that some delays to road, rail, air and ferry transport are likely, as are delays for high-sided vehicles on exposed routes and bridges and some power loss is possible.
Met Office meteorologist Aidan McGivern said: "The wind gusts will approach 40-50mph across western parts of Scotland, Wales, western England and Northern Ireland.
"Accompanying high tides will be big waves and we could see coastal impacts from those and inland impacts from those strong winds as well.
"Later in the day as the deep low approaches north-west Scotland there is the risk of 70mph gusts for exposed parts.
"The rain is also of concern with a lot of it to come through 36 hours over Friday and Saturday, especially for western parts of England, south-west Scotland and Wales."