Donald Trump has called Princess Eugenie a "truly beautiful bride", but incorrectly said her wedding was on Saturday.
The US President referred to "yesterday" when he tweeted his praise on Sunday afternoon, two days after Eugenie tied the knot with Jack Brooksbank on Friday.
The couple sealed their union with two kisses on the steps of St George's Chapel following their ceremony, before an afternoon reception in Windsor Castle and a bash at the York family home on Friday night.
Mr Trump wrote on Twitter on Sunday: "Princess Eugenie of York was a truly beautiful bride yesterday. She has been through so much, and has come out a total winner!"
The president may be referring to Eugenie's successful operation to straighten her spine after she was diagnosed with scoliosis as a 12-year-old.
The princess received treatment at the Royal National Orthopaedic Hospital (RNOH), and ahead of her big day she reflected on the surgery and the importance of the charity during an interview with ITV's This Morning.
She told host Eamonn Holmes: "I'm patron of their appeal and I had an operation when I was 12 on my back, and you'll see on Friday, but it's a lovely way to honour the people who looked after me and a way of standing up for young people who also go through this.
"I think you can change the way beauty is, and you can show people your scars and I think it's really special to stand up for that.
"So that's one really important one.
"But separate to that, other organisations that are there, it's just very important that they get a chance to be honoured for the work that they do constantly, so it's lovely that I can share this special day with them."
One intimate black and white image shows the couple having a kiss inside the Scottish State Coach as they returned to Windsor Castle after the carriage procession.
The newlyweds are said to be "delighted" to share the four photographs, which were taken by British fashion and portrait photographer Alex Bramall.
A group photograph taken in the White Drawing Room at Windsor shows both the bride and groom's families.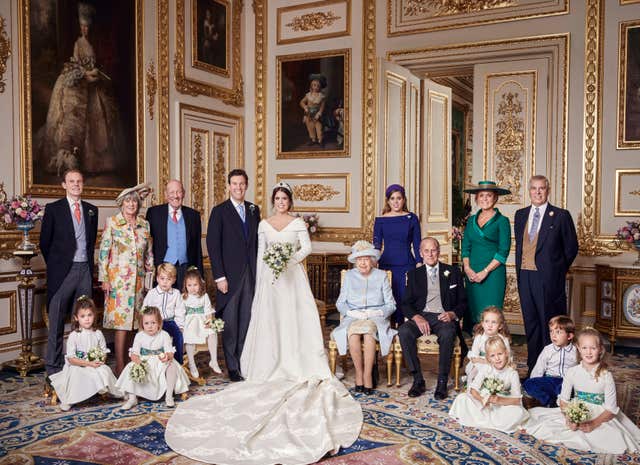 The Queen's husband is thought to have a frosty relationship with "Fergie", who divorced Andrew in 1996.
On Friday, a grinning Fergie gave a big sigh of relief as she took her seat in the chapel for the wedding ceremony, and spent a great deal of time waving at guests in the pews opposite.
But she remained composed and kept her head slightly lowered when her former father-in-law passed her to take his seat in the row behind.
It was believed to be the first time they had been pictured together in 26 years after she was cast out from the royals amid her "toe sucking" scandal in the 1990s.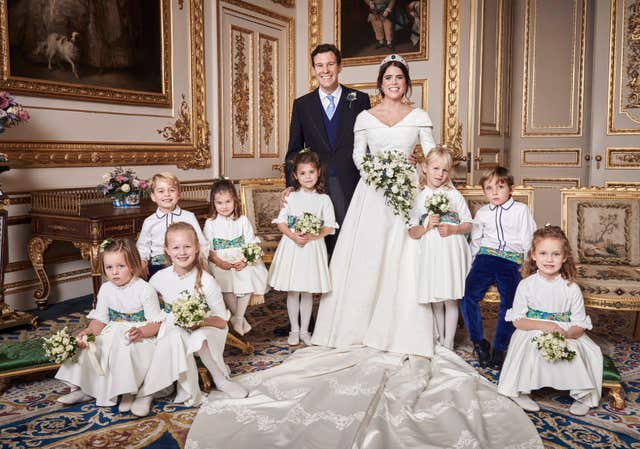 Future king Prince George is looking at the camera with a beaming smile next to sister Princess Charlotte, who is dangling her legs with her feet crossed.
In the fourth photograph, the newlyweds are pictured at the York family home, Royal Lodge in Windsor Great Park, ahead of the private evening dinner.
Wearing a Zac Posen gown, Eugenie appears to be looking lovingly at her new husband, who is smiling at the camera and holding her hand.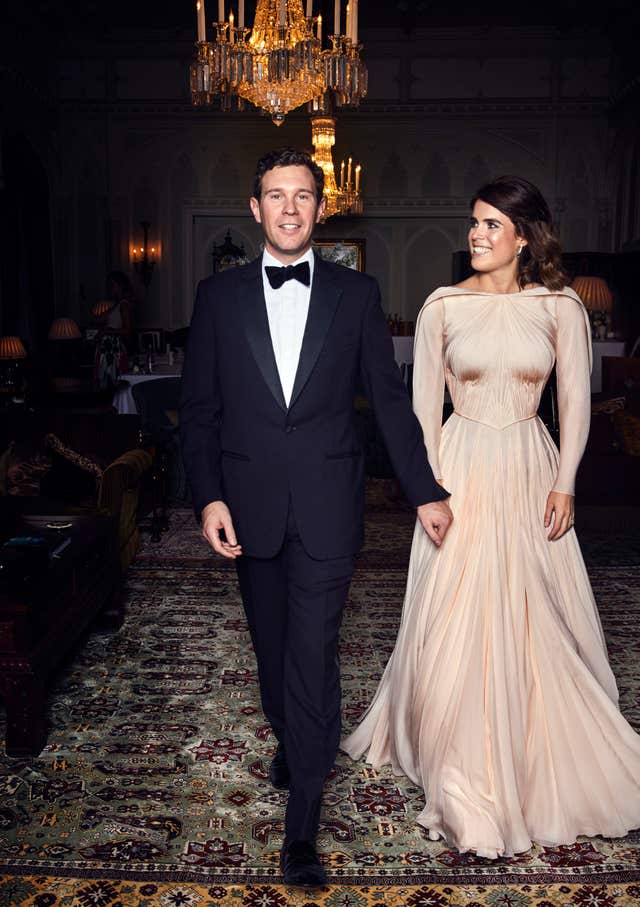 He also took inspiration for the design from the White Rose of York.
Eugenie set off her evening look with diamond and emerald drop earrings which were a wedding gift from the groom, and a hair slide belonging to the Queen.
Photographer Bramall said it was "an honour and a privilege" to be invited to photograph the couple.