Health officials' actions to identify potentially harmful toxins lingering after the Grenfell Tower fire are insufficient, an academic who took her own soil samples has said.
Professor Anna Stec said blood, urine and saliva samples should be taken from survivors, emergency responders and local residents, and added that a recent move by the NHS to fund long-term screening "still falls short of what is required".
Tests on soil and dust, by the professor in fire chemistry and toxicity at the University of Central Lancashire, revealed "huge concentrations" of potential carcinogens around the west London tower block, the Guardian reported on Friday.
Prof Stec said the full extent of her preliminary findings will only become apparent when the work is completed and they are validated.
She said: "My thoughts are with the people of Grenfell and the surrounding area. Like everyone else, I am anxious to ensure that there are no adverse health effects as a result of the tragic fire.
"I believe this can only come about by specific screening of the population for any health effects resulting from exposure to fire products, and detailed analysis of the environment.
"Most people are likely to be completely unaffected by any fire-derived toxicants, but while there is a possibility that a small section of the exposed group may suffer some ill-health effects, we need to ensure these are identified and dealt with properly and promptly.
"While the recent NHS announcement to fund long-term screening and treatment for those affected by the Grenfell Tower fire is to be welcomed, it still falls short of what is required since no attempt has been made to look at the specific effects of pyrogenic toxicants around the tower.
"Saliva, urine and blood samples should be collected and analysed along with other biomarkers, from not only those who were evacuated and other residents in the area, but also firefighters and the other emergency responders who helped during the disaster."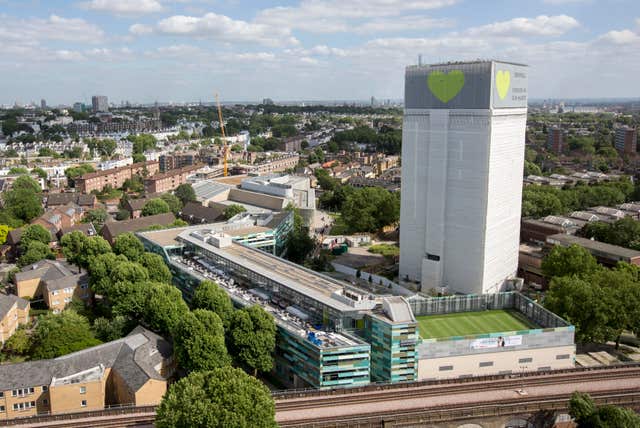 They are now "urgently" seeking a meeting with Prof Stec so they can see her full data and act if necessary.
Joe Delaney, a local community member, said PHE had "offered platitudes, contradictions and a dismissive attitude, when residents deserve openness, honestly and an intelligent debate".
He added: "They have clearly failed in their duties to the victims of Grenfell and the wider community at risk from these contaminants. They have lost the trust of this community and are risking the health of London residents by not handling this matter with the care and urgency it clearly deserves."
It comes as lawyers representing more than 270 survivors, bereaved and local residents who are core participants in the Grenfell Tower inquiry wrote to PHE urging officials to carry out their own investigations.
A letter from law firm Bhatt Murphy to PHE chief executive Duncan Selbie advises the agency to take a similar approach to the American response after the attack on the World Trade Centre in 2001, when officials undertook bulk testing of dust samples around Ground Zero.
It recommends officials use the results to establish a "health-related benchmark" which could show the likelihood of people in the area developing cancer compared with unaffected populations.
While PHE has been regularly monitoring air quality, it has not taken soil or water samples.
A group for survivors and the wider community, Grenfell United, has requested an urgent public meeting.
In response, the secretary of state for housing, communities and local government, James Brokenshire, and fire minister Nick Hurd said the community's health was a "consistent priority" for the Government.
Their letter added: "As in any large city with an industrial legacy, there are potential areas of contamination, but Public Health England has advised that there is very low risk to health."