Labour leader Jeremy Corbyn has condemned the Government for its "disgraceful" treatment of college staff.
He was speaking at a protest at Parliament which was staged to call for increases in college funding.
Mr Corbyn paid tribute to all college staff and told protesters, including students and lecturers who had gathered in the rain in Parliament Square: "I have to say that the way that the staff have been treated by this government is disgraceful.
"The way that college lecturers have seen their conditions deteriorate over many years and their treatment over this summer is why I, and on behalf of the Labour Party, am proud to support the UCU (University and College Union) and the action it has taken."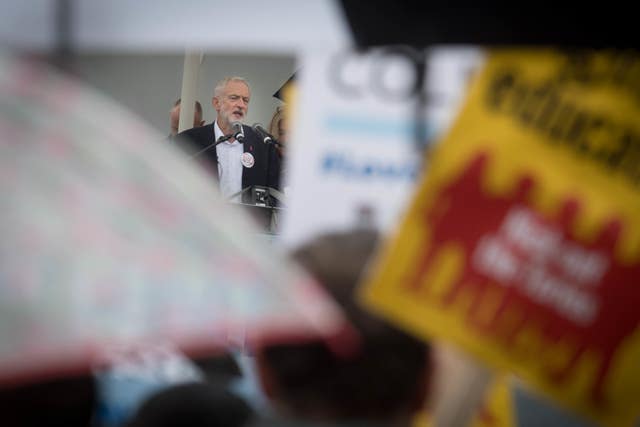 Mr Corbyn said: "We stand today for properly funded colleges and properly paid staff.
"We stand today for the principles of education for all as a right."
He called for an end to austerity and described it as "an incredible waste of resources" to deny some people the education they need.
The Love Our Colleges campaign is a partnership between the Association of Colleges, NUS students' union, Association of College and School Leaders, University and College Union (UCU), GMB, TUC, National Education Union and Unison. Its aim is to raise awareness of the funding challenges faced by colleges.
A short march to Whitehall, which was organised by education and students' unions, was held before the further education (FE) funding rally.
Protesters held banners which read "FE funding an investment not a cost", "make my future fair " and "we love our college".
There were chants of "When they say cut back", with the crowd replying "We say fight back".
Some colleges shut down for the day to allow staff and students to attend.
New City College (NCC) in Redbridge, east London, said it was closing to allow staff and students time to "raise awareness" of the demands being made of Government.
These include providing immediate exceptional funding ring-fenced for pay, to cover the costs of a fair pay deal for college staff from 2018/19 onwards, increasing the funding rate for 16 to 19-year-olds in education by 5% a year for the next five years, and extending the pupil premium for pupils from disadvantaged backgrounds to benefit post-16 students too.
An NCC tweet read: "We'll be at the#LoveOurColleges national day of action today. Classes back to usual tomorrow. Happy #CollegesWeek!"
More than 31,600 people had signed an online petition calling for "increased funding to sustainable levels" and declaring that "all students deserve equality" by the time Wednesday's march got under way.
The petition states: "We call on the Government to urgently increase college funding to sustainable levels, including immediate parity with recently announced increases to schools funding.
"This will give all students a fair chance, give college staff fair pay and provide the high-quality skills the country needs."
The central London protest came as small to medium-sized enterprises (SMEs) warned the UK risked being left behind if the Government did not address the skills gap through education.
Research released by the Association of Colleges (AOC) said that 51% of SMEs were finding it more difficult to employ people with the right skills, compared to five years ago.
Some 58% of them said finding skilled candidates was the biggest concern about the future of their business.
Of the 534 SME leaders and decision leaders surveyed, 48% said colleges were best placed to skill the future workforce, compared to universities (30%) and schools (21%).
A separate survey of 70 college principals in England revealed that four in five feared cuts to college funding may limit their ability to fill skills gaps.
Almost all of them (95%) were concerned about the effects cuts were having on their college.
The data shows that in the past five years the average college in England has had to cut 15 courses due to lack of funding, and teaching hours have been cut by around nine hours per week.
Apprenticeships and skills minister Anne Milton later thanked schools and colleges for the "vital" role she said they played in ensuring people of all ages had the skills they needed to get on in life.
She said: "I am very aware of the funding pressures in further education which is why we are conducting an assessment of education, funding and the sustainability of the sector.
"This government plans to invest nearly £7 billion this academic year to make sure there is a place in education or training, including apprenticeships, for every 16 to 19-year-old and we have protected the base rate of funding for 16 to 19-year-olds until 2020.
"We are also investing in the sector as we introduce our new gold standard T Levels from 2020, which will be backed by an additional £500 million every year once they are fully rolled out."
Officials are to continue to look carefully at funding for the sector in preparation for the next Spending Review, according to the Education Department.