A new potential witness for the Ballymurphy shootings inquest has recently emerged, a lawyer told a coroner's court.
A Catholic priest and a mother-of-eight were among 10 people killed during three days of gunfire involving members of the Parachute Regiment in August 1971.
Another man died of a heart attack following the trouble in the west Belfast estate. Disturbances at that time were linked to the introduction of internment without trial in Northern Ireland.
Sean Doran QC, counsel for the Coroner's Service, said the further witness was discovered following a search relating to Army regiments.
Mr Doran added: "He only emerged as a witness from whom a statement should be taken recently as a result of what we have referred to as the grid exercises."
He told the coroner: "The professional judgment of your representatives has been brought to bear on the papers, we have arrived at the conclusion that those currently listed in the witness list are the only witnesses who ought to be called."
More than 100 former soldiers are being asked to provide statements to the inquest, which is due to get under way later this year.
Karen Quinlivan QC, who represents the Ballymurphy families, queried whether the full hearing could go ahead without more progress on legal matters.
She said: "We are not opposed to the inquests proceeding on the date suggested.
"Our concern is that despite our submissions from September, it was not until yesterday that we understood that there was opposition to those steps being taken and the steps we thought were necessary have not been prioritised."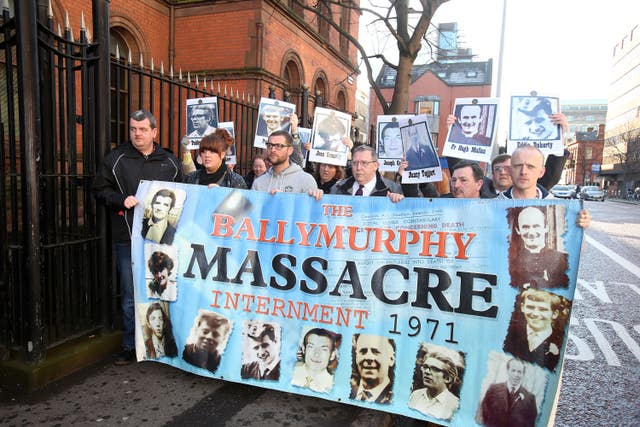 Evidence from the soldiers had been expected to be heard early next year.
Ms Quinlivan added: "If there are soldier witnesses to be interviewed their statements need to be available before the start of contentious civilian witnesses.
"Tracing issues need to have clear priority."
The Coroner's Office has been examining a database of names of former soldiers it received from the Ministry of Defence (MoD) in August.
Coroner Siobhan Keegan said there had been a "collaborative" approach between legal teams representing her office, the bereaved families and the MoD and urged that should continue.