The Duke of Cambridge was left in awe by cutting-edge British technology which scientists hope will deliver the holy grail of power production – electricity from fusion.
William said "it's incredible, it really is" after being shown an experimental fusion reactor which the UK Atomic Energy Authority (UKAEA) believes could help make the power source commercially viable.
Standing in the shadow of the Mast (Mega Amp Spherical Tokamak) Upgrade fusion experiment – a large cylindrical machine covered in wires and pipes – the duke joked with senior staff, saying: "It's very exciting, no pressure."
He added: "It's amazing science, it really is."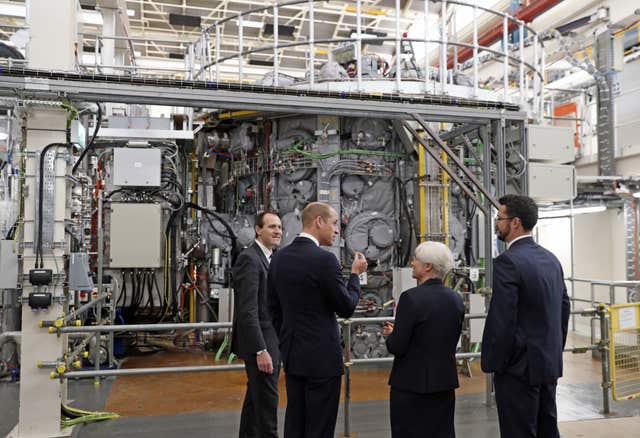 It uses special forms of hydrogen as fuel, produces no greenhouse gases, and the only waste product is helium.
But harnessing and reining in the mighty forces involved is a daunting challenge, as at the heart of a fusion reactor is a super-hot cloud of electrically charged gas, or plasma, many times hotter than the sun's core.
After the tour, William was taken to the nearby control room at the UKAEA's Culham Science Centre near Oxford and asked to press a large red button to start up the machine to mark the end of its five-year construction.
"Even more than that, it will also tell us whether we can build fusion reactors in the future based on a more compact, and therefore cheaper, design. It really is a facility of enormous potential and importance."
He added: "Today we will operate the fuel at just a few hundreds of degrees, showing that assembly is complete and we are ready to commission the machine to operate at a hundred million degrees."
When William pushed the button, everyone turned towards a screen which showed the inside of the reactor, and when a purple plasma cloud was seen after a long wait, there was a spontaneous round of applause.