The Red Arrows will hold their largest ever tour of North America next year with a nine-week visit expected to generate £2.5 billion in investment for Britain.
The Royal Air Force Aerobatic Team, which has not performed in the region since 2008, will embark on its first major tour of the US and Canada in more than 25 years.
Ministers and military officials predict the trademark red, white and blue displays will be watched by millions of people.
Pilots and other Red Arrows officials will also meet business leaders, visit schools and attend other engagements during the tour, which follows the RAF's 2018 centenary celebrations.
Defence Secretary Gavin Williamson said: "Our Red Arrows fly the flag for Britain across the globe, both in the skies and on the ground, and this tour will not only showcase their teamwork and aviation excellence, but also promote our great nation to billions of people across the world.
"After an incredible year celebrating RAF 100, it seems only fitting that the Red Arrows prepare to illuminate the skies of our closest allies in 2019, celebrating and strengthening our incredible relationship with the US."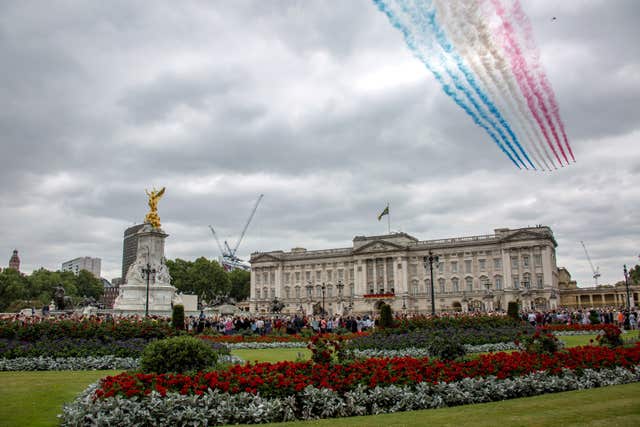 Air Vice Marshal Warren James, the senior RAF officer responsible for the Red Arrows, added: "The deployment of the Red Arrows will demonstrate the global reach and capability of the RAF and our continuing support of the United Kingdom's defence and commerce industries.
"Together with the GREAT Britain campaign, Western Hawk 19 will showcase our excellence, professionalism and proud heritage in education, engineering, technology and finance to our allies.
"We are very much looking forward to our visit in August and September of 2019."
The North America programme, the first significant tour of the region since 1993, follows the Red Arrows' nine-week tour of the Asia-Pacific and Middle East region in 2016.
The 20,000-mile deployment, which spanned 17 countries, included the team's first visit to China and reached a global audience of more than one billion people, according to the Ministry of Defence.