A British academic accused of spying in the United Arab Emirates has appeared in court after five months in solitary confinement.
Matthew Hedges, a PhD student at Durham University, went to the UAE to interview sources about the country's foreign policy and security strategy.
The 31-year-old was detained at Dubai Airport on May 5 and his family said he has been held in solitary confinement since then.
Mr Hedges appeared at the Federal Court of Appeal in Abu Dhabi on Wednesday. He denies spying for the UK Government.
His lawyer requested an adjournment and the next hearing is due to take place on November 21.
Mr Hedges' wife, Daniela Tejada, said: "It pains me to think that by his next court hearing, Matt will have been detained for over six months for carrying out legitimate academic research."
She added: "Matt is an innocent man. He was in the UAE to finish his PhD. The evidence will undoubtedly show this."
His family said they have only been allowed to visit him twice since he was detained "with no explanation".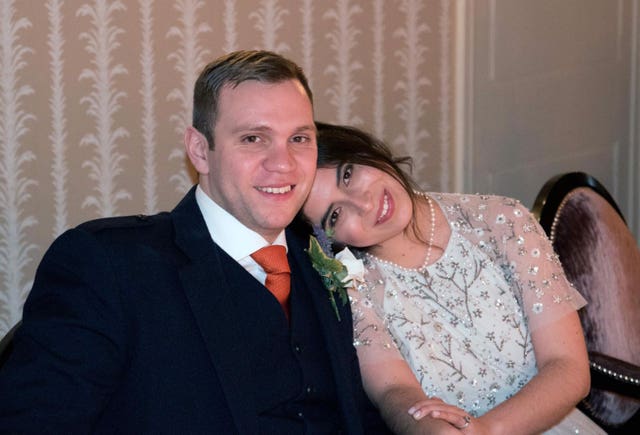 She said her husband has been in "great distress" and is suffering from anxiety and panic attacks.
"He has expressed suicidal thoughts at one point," she told BBC News.
"His only mechanism to let go of nerves was self-induced vomiting."
Ms Tejada said the UK Foreign Office has been lobbying over her husband's welfare but that her requests to meet Foreign Secretary Jeremy Hunt have not been granted.
She said the accusations that Mr Hedges is a spy make the case a "state matter" and added: "It's Britain's integrity that has been brought into question through these accusations as well."
Nearly 500 academics from around the world have come together to call for his freedom.
"I am ready to fight and I am ready to do anything it takes to get Matt back," Ms Tejada added.
In a joint statement, Durham and Exeter Universities said they are "deeply concerned" for Mr Hedges' welfare and that he is suffering from "significant health issues".
Mr Hedges completed a Masters degree in Middle East Studies at Exeter, and began working on his PhD at Durham in 2013.