Former Sinn Fein MP Barry McElduff has insisted an incident where he posed with a loaf of Kingsmill bread on his head on the anniversary of the Kingsmill massacre was a "bizarre coincidence".
Mr McElduff resigned as West Tyrone MP in January after families of some of the 10 Protestant workmen shot dead by republican paramilitaries in 1976 expressed outrage at the video.
He was interviewed by detectives in April and questioned over alleged improper use of a public electronic communications network under the Communications Act 2003, and two alleged public order offences under the Public Order (NI) Order 1989.
However, earlier this week Northern Ireland's Public Prosecution Service (PPS) said there was insufficient evidence to provide a reasonable prospect of convicting the 52-year-old over his controversial social media post.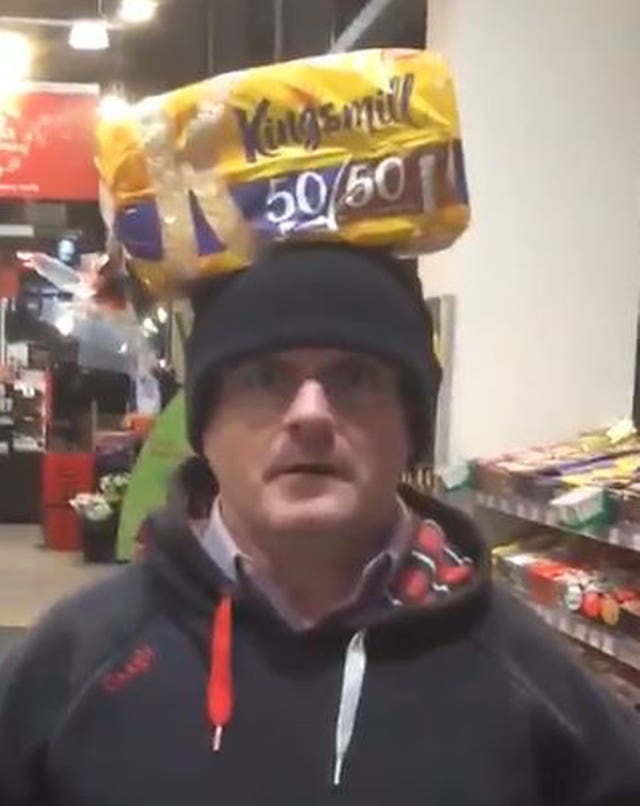 In the interview he says he had called at the petrol station in Omagh to pick up his daughter who worked there, and he realised he needed to pick up some groceries.
He said Kingsmill was the only brand of bread in the shop, and explained he decided to put the loaf on his head as an act of humour, in a play on a previous television advert.
"It was just a wee quirk of personality, a humorous trait that I never would have imagined for one second would backfire in the way that it did," he said.
"I never made the connection, first of all, I wasn't conscious of the brand name, and even then I wouldn't have made a connection if I had of.
"I didn't know it was the anniversary, I didn't know any of those things.
"It was genuinely spontaneous, innocent fun.
"It sounds bizarre, and it really is a bizarre, cruel coincidence."
Mr McElduff said he took full responsibility for what happened, but insisted he never meant to cause offence.
He also made a public apology to the Kingsmill families.
"I genuinely deeply respect you as human beings, I acknowledge your suffering, and having already done it, I would reiterate an apology for unintentional hurt caused," he told the programme.
"I will never say or do anything disparaging towards them regardless of how they view me."
The Sinn Fein veteran also revealed he received death threats in the aftermath of the incident on social media and by phone.
But he insisted: "I don't want to present myself here as a victim".
Mr McElduff has consistently maintained he had not meant the video as a reference to the sectarian murders of 10 Protestant workmen near the south Armagh village of Kingsmill.
Mr McElduff was suspended by Sinn Fein for three months, but told The View that he received "mixed messages" from the party with some telling him to step down, and others telling him to apologise and remain.
However Mr McElduff announced his resignation, acknowledging the post had caused unintentional hurt to the Kingsmill families.
He said staying in the job would have impeded efforts to forge reconciliation in Northern Ireland.
Kingsmill is a well-known brand of bread in Northern Ireland.
It shares a name with the village that witnessed one of the most notorious incidents of the Troubles, when gunmen stopped a van carrying textile workers on their way home, identified the Protestant occupants, lined them up at the side of the road and shot them.
Only one of the 11 men gunned down survived the attack.
Sinn Fein easily held on to the West Tyrone seat in May's by-election, with solicitor Orfhlaith Begley succeeding Mr McElduff.