A meeting between Northern Ireland Secretary Karen Bradley and the region's political parties has been branded a "waste of time".
Powersharing government at Stormont has been collapsed since January 2017 following a breakdown in relations between the Democratic Unionists and Sinn Fein.
Numerous attempts at talks to agree to the return of devolution to Stormont have ended in failure.
Mrs Bradley met the largest five political parties in Belfast on Thursday before returning to London. The meeting is understood to have lasted about 45 minutes.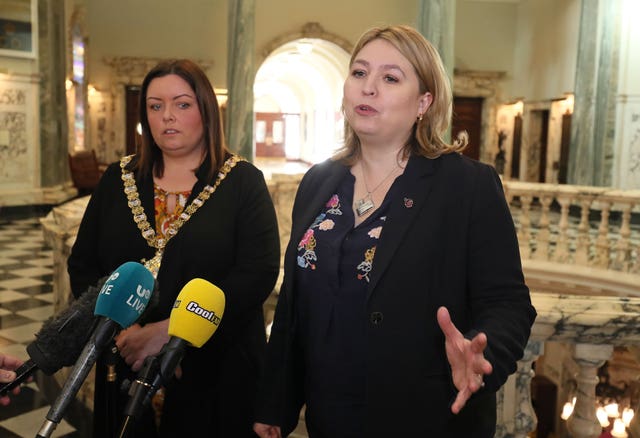 Four of the five parties expressed frustration after the meeting, describing it as a "waste of time", and pressed Mrs Bradley to convene multi-party talks.
However Democratic Unionist MLA Christopher Stalford said the frustration should not be directed at Mrs Bradley, insisting it should instead be directed at Sinn Fein.
The Sinn Fein delegation gave a short statement to the media after the meeting, before leaving without taking questions.
Sinn Fein MLA John O'Dowd accused the British Government of "treating large sections of this society with utter and complete contempt".
"We attended a meeting this morning with the Secretary of State and the other political parties to establish if there was basis for going forward with a rights-based society with accountable government for all. Unfortunately that was not the case," he said.
"It is quite clear that the British Government is treating large sections of this society with utter and complete contempt."
Ulster Unionist leader Robin Swann said the meeting had been "badly briefed and was badly advised".
"I said to the Secretary of State I thought it was simply so that someone in the NIO (Northern Ireland Office) could tick a box to say they had brought all five parties around a table," he said.
"To salvage this now, the Secretary of State needs to take ownership of this process, and actually put together a five-party talks process, irrelevant of the consensus of the five parties on what it looks like. She needs to take ownership and if she doesn't take ownership, she needs to introduce direct rule."
SDLP leader Colum Eastwood said the meeting was a "waste of time".
"It is quite clear that the British Government are totally unprepared to take the necessary next steps to get powersharing restored.
"Today is an embarrassing day for the Secretary of State. Quite simply, it is not her job to wait for a 'consensus', her job, alongside the Tanaiste (deputy premier Simon Coveney), is to kickstart the talks process."
Alliance leader Naomi Long said: "Today's briefing from the Secretary of State was not just a pointless exercise, but I would argue it was actually counterproductive in that relationships between the parties and indeed with the Secretary of State are possibly now at an all-time low.
"The reality is, the longer this process continues the further we drift from restoration of the institutions.
"We are not where we were in February when the talks collapsed, we are further away today from restoration than we were then, and with every day that passes, we get further and further away.
"The responsibility now lies with the Secretary of State to make a decision to convene the talks and to get us back in the room, and put it up to the parties.
"If parties are not willing to come and participate, then let them be held accountable by the public who are sick to the back teeth of this nonsense."
Mr Stalford said it had been clear what the meeting was to be about.
"You could only be angry if you had deliberately misinterpreted what the meeting was about. My understanding going into the meeting was that this was to be a briefing by the Secretary of State about the legislation which went through Parliament recently, and that is what she provided," he said.
"I can understand frustration because I am frustrated that we have gone so long without a functioning executive, but that frustration should not be directed at Karen Bradley, she is not the person that
brought us to this pass, and it is not her job, or my job, or the job of any other political party in Northern Ireland, to talk Sinn Fein down from the high horse they have put themselves upon.
"It's up to people to come out of the corner they have painted themselves into and get back to work and get back to government."
Mrs Bradley said earlier: "I have always been clear that this was a briefing for the parties on the bill that will become an act of Parliament next week, so that they can understand what the debates were in Parliament last week and this week in the House of Lords, and so they can see now that it is going to be an act of Parliament in the next few days, what that will mean.
"That is what I am going to do now because I want to get those parties in a room together and really go through with them how this act will deliver for them.
"But they have to do the right thing, come back into government, and I want to see them do that as soon as possible."