Tracey Crouch has insisted she has "no regrets" about quitting the Government in protest over stalled gambling reforms.
The Conservative MP heaped fresh pressure on Prime Minister Theresa May when she resigned as sports minister after being angered by a delay in the introduction of a cut to the maximum stake for fixed-odds betting terminals (FOBTs).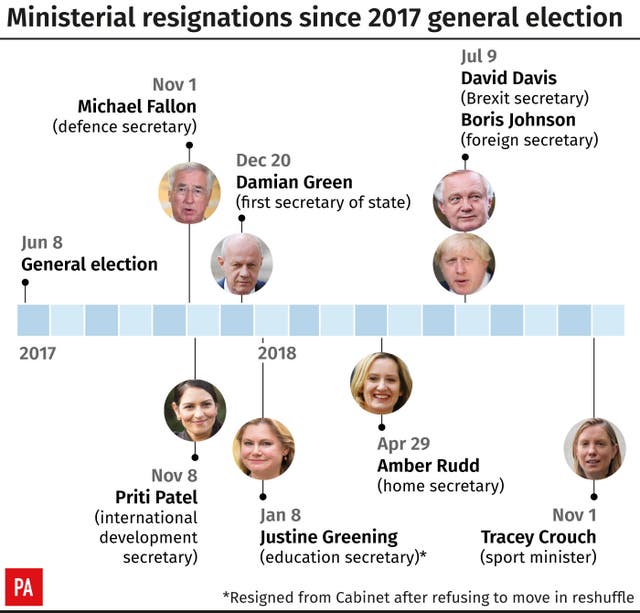 She told reporters: "I have absolutely no regrets about my decision whatsoever.
"I'm perfectly comfortable with my decision."
Asked if she had full confidence in Mrs May, she replied: "The Prime Minister has an absolutely important job to do in order to deliver on Brexit and I look forward to being a supportive member of her backbenches."
The Chatham and Aylesford MP resigned from her ministerial post after insisting that not cutting the maximum wager on FOBTs from £100 to £2 until October 2019 was "unjustifiable", and indicated it could cost lives.
The move appeared to energise support for bringing in a bet limit earlier, with talk of Mrs May facing a potential rebel amendment to the Finance Bill later this month.
International Development Secretary Penny Mordaunt and Commons Leader Andrea Leadsom spoke warmly about Ms Crouch after she quit, and ex-foreign secretary Boris Johnson said the MP deserved credit for sticking by her principles.
Mr Welby tweeted: "@tracey_crouch who resigned as Sports Minister over the delay to reducing the maximum stake on fixed odds betting machines, is principled and courageous. May God bless her commitment to doing right."
In a joint statement, leaders in the Church of England, the Methodist Church, the Baptist Union of Great Britain, the United Reformed Church, the Evangelical Alliance, Christian charity CARE and Quaker Action on Alcohol and Drugs backed Ms Crouch.
"As a minister, she has shown unfailing loyalty to government policy, while not concealing her real concern," the said.
"No valid reasons have been given for delaying implementation of the £2 stake. Individuals, families and communities will continue to suffer – at the cost, even, of more avoidable deaths – for six months beyond April 2019, unless the Government accepts that the same reasons which led it to accept the change must lead it to bring the date forward."
In a hard-hitting resignation letter to the Prime Minister, Ms Crouch said: "Unfortunately, implementation of these changes are now being delayed until October 2019 due to commitments made by others to those with registered interests.
"From the time of the announcement to reduce stakes and its implementation, over £1.6 billion will be lost on these machines.
"In addition, two people will tragically take their lives every day due to gambling-related problems and, for that reason as much as any other, I believe this delay is unjustifiable."
Mrs May replied that she was "disappointed" by Ms Crouch's move and insisted there had been no delay.
She wrote: "There has been no delay in bringing forward this important measure.
"Indeed, as you know from your work as the minister responsible, we listened to those who wanted it to come into effect sooner than April 2020 and have agreed that the changes should be in place within the year – October 2019.
"Having taken the decision to make this very significant cut in maximum stakes, we must ensure that this change can be implemented in an orderly and effective manner to make sure it delivers on the results we all want to see."
Ms Crouch drew praise from across the political divide.
Mr Johnson tweeted: "Congratulations to @tracey_crouch who deserves huge credit not just for her campaign but for sticking up for her principles."
Ms Mordaunt said: "She has done amazing work on gambling, on mental health, on loneliness, women's empowerment, sport and civil society, of which she should be very proud."
Mrs Leadsom tweeted a picture of Ms Crouch's resignation letter, adding: "And you are a superbly principled politician, Tracey. A real loss x"
Shadow culture secretary Tom Watson also tweeted praise for Ms Crouch, saying: "She poured her heart and soul into a significant review of these destructive machines, faced down a systematic lobbying attempt by the gambling industry and took the right decision for those suffering from problem gambling, their families and communities."
Mrs May did not immediately replace Ms Crouch as sports minister and is believed to be considering candidates for the role.