A leading Irish politician has blasted Brexiteer claims that a Northern Ireland border backstop is unnecessary as "completely unfeasible", warning that the peace process would be under threat without a deal.
Senator Neale Richmond, who chairs the Seanad's Brexit committee clashed with Tory MP Owen Paterson after the latter said that the border issue could be solved using "existing practical systems".
It came after reports from Dublin suggested that a deal involving an all-UK customs union in the Withdrawal Agreement, plus a separate backstop for Northern Ireland, was close to being agreed.
On Friday, Ireland's deputy premier Simon Coveney said he believes a Brexit deal could be reached by the end of November, with his Westminster counterpart, Cabinet Office Minister David Lidington, saying negotiators were "very close", after the pair held talks in Dublin.
Mr Paterson, a former Northern Secretary, told BBC Radio 4's Today programme that any such deal would be a "total betrayal" of millions of Leave voters and the 85% of voters at the last General Election who backed Tory and Labour manifestos which committed to leaving.
He repeated a warning that Northern Ireland may become an EU protectorate and said that experts backed the European Research Group's claim that the border can be kept open and managed using current systems.
He said: "They are convinced that the current proposals, the Chequers proposals, the facilitated customs regime, is completely unworkable in practical terms for five to ten years.
"They have looked at this, they are completely abreast of World Trade Organisation (WTO) rules, World Customs Organisation rules, and they have assured us that we can continue using many of these administrative systems if there is political goodwill.
"We are addressing a very small amount of trade which is very very regular and already very very clearly administered and regulated.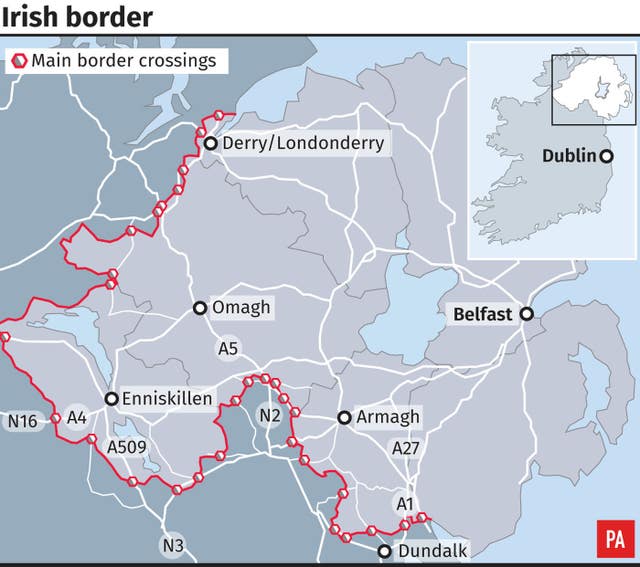 However, Senator Richmond said that what was described as a "very small" amount of trade was actually "14,000 commercial vehicles every day and 30,000 people crossing the Irish border" to and from what would become a "third party" country after Brexit.
Some 85% of the trade was carried out by small businesses who did not need added bureaucracy, he added.
He told Today: "The advice he (Mr Paterson) has got from one Dutch academic doesn't stack up to the expert advice of HM Revenue and Customs, the European Commission, the Irish government, the WTO itself and thousands more legal minds.
"When we talk about political goodwill I think it's very important… why the Irish government and why the European Commission is so firm on an Irish-specific backstop is the preservation of peace.
"It's the 20-year-old fragile Good Friday Agreement peace, something that the Irish government and indeed the British government is a co-guarantor of, and we must work to ensure that there is no hard border, customs or otherwise, on the island of Ireland, as that is a threat to that Good Friday Agreement. Let's focus on that first and foremost."
On Friday Mr Lidington and Brexit Secretary Dominic Raab visited Ireland and Northern Ireland respectively for talks with senior political figures as the deadline for securing a Brexit deal gets ever closer.
Speaking at a meeting of the British-Irish Intergovernmental Conference in Dublin, Mr Coveney said he believed "it is possible to get a deal in November", adding: "This border issue is complicated to resolve… but I think we're very close to resolving it. I certainly hope we are."
Mr Lidington replied by saying: "We're certainly, as Simon said, very close to resolving it."
Mr Raab was tight lipped about how negotiations were going when he was questioned by the media during a visit to Belfast.
After meeting politicians from across the spectrum he pledged that his Government will not sign up to any deal which could threaten the constitutional integrity of the UK.