The remnants of ex-hurricane Oscar promised a wet and windy start to the weekend, with torrential downpours expected.
Scotland and north-west England will bear the brunt of the heavy rain, and the Met Office has warned that flooded roads could lead to some travel disruption.
Those heading to fireworks displays on Saturday evening have been advised to brace themselves for strong winds as a weather system moves in from the Atlantic.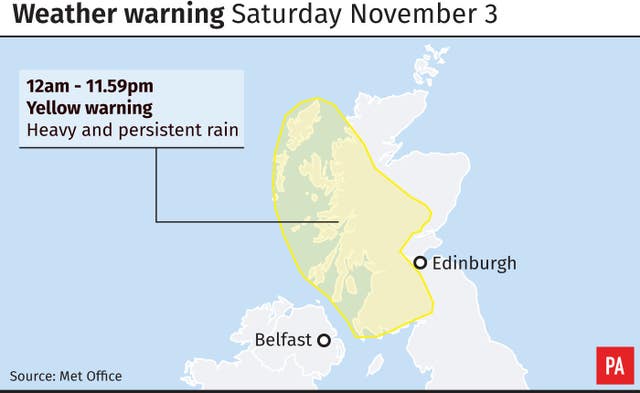 "It will be pretty windy across all areas, particularly in the north and west and there will be some heavy rain around," he said.
"Across south-eastern parts of England it will be generally dry, although breezy.
"Further north-west, some heavy rain and some strong winds as well could affect the (fireworks) displays."
A yellow weather warning for rain covers central and western parts of Scotland and the North West of England throughout Saturday.
Areas covered by the warning are expected to see between 1.2in and 2in (30mm-50mm) of rain, with as much as 3.1in (80mm) forecast on high ground.
Wales is also set to experience some heavy rainfall, while Northern Ireland will see showers and strong winds.
Those in the South East of England will see the best of the weather on Saturday night.
Temperatures remain milder than they have been all week, reaching between 12C (53.6F) and 14C (57.2F), but the windy and wet weather is likely to make it feel cooler, forecasters added.