Theresa May has told Cabinet that she will not agree a withdrawal deal with the EU "at any cost".
The Prime Minister said any agreement will be dependent on an "acceptable" framework for future relations in areas like trade and security, expected to be covered in a separate political declaration.
At the regular weekly meeting in 10 Downing Streets, senior ministers discussed proposals for a "review mechanism" to ensure that the UK is not stuck indefinitely in a possible backstop arrangement designed to avoid a hard border in Ireland.
The meeting came as hopes of a special Brexit summit to finalise the withdrawal agreement in November appeared to be receding.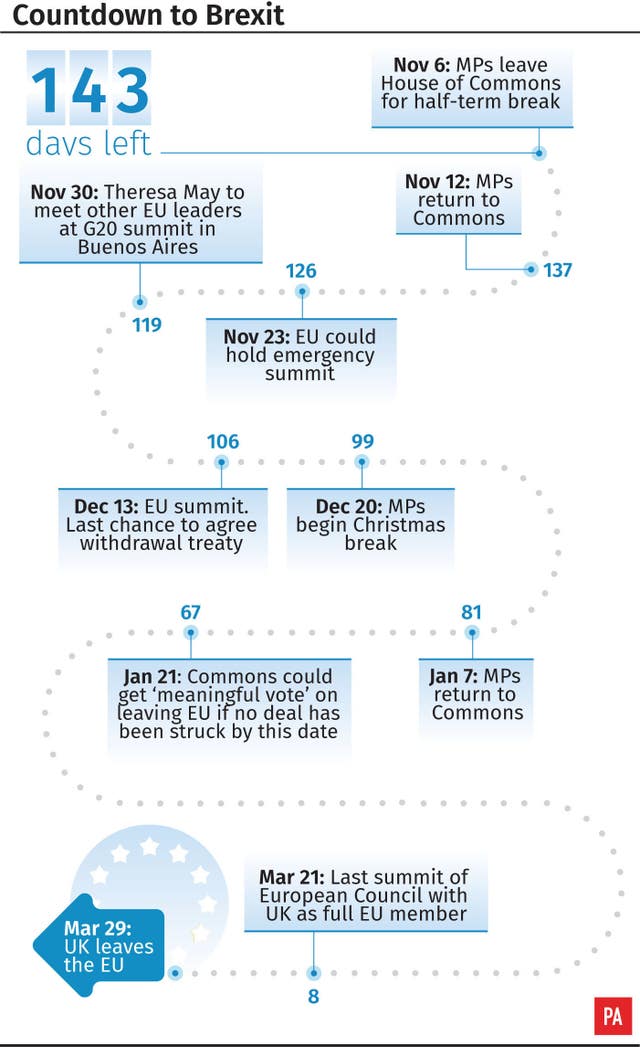 Mrs May assured ministers that there would be another Cabinet before any agreement is settled, though her official spokesman said no extra meeting has yet been scheduled ahead of the regular weekly gathering next Tuesday.
"Don't be under any illusion, there remains a significant amount of work to do," the spokesman told reporters.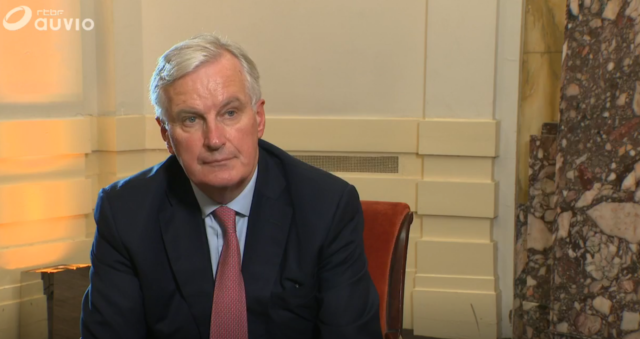 "For now, we are still negotiating and I am not, as I am speaking to you this morning, able to tell you that we are close to reaching an agreement," he told Belgian broadcaster RTBF.
"There is still a real point of divergence on the way of guaranteeing peace in Ireland, that there are no borders in Ireland, while protecting the integrity of the single market."
Following the Cabinet meeting, Mrs May's spokesman said: "The Prime Minister said she was confident of reaching a deal. She said that, while the UK should aim to secure a withdrawal agreement as soon as possible, this would not be done at any cost.
"The Prime Minister said that, once agreement was reached on a withdrawal agreement, it remains the case that nothing is agreed until everything is agreed and it will be subject to securing an acceptable full future framework."
Irish Taoiseach Leo Varadkar told the Prime Minister on Monday that he was ready to consider a review mechanism as part of a "backstop" arrangement to keep the border with Northern Ireland open after Brexit.
But he made clear that he would not accept an arrangement which gave the UK unilateral powers to ditch the customs union without the agreement of Brussels.
Mrs May is understood to view the mechanism as a means of allaying the concerns of Conservative and DUP MPs who want guarantees that any future membership of a customs union is temporary.
"Looks like we're heading for no deal," he tweeted.
"Such an outcome will have serious consequences for economy of Irish Republic. In addition, UK won't have to pay a penny more to EU, which means big increase for Dublin. Can't understand why Irish Government seems so intent on this course."
Conservative MP Anna Soubry, a leading supporter of the People's Vote campaign for a second referendum, said:  "Today has seen the start of another effort to force the Cabinet and Parliament to accept a so-called Brexit deal that resolves nothing about our future but promises only extra costs, further uncertainty and less say in the rules governing how we run our economy.
"Deal or no deal, it's becoming clearer by the day that the UK is headed for a miserable Brexit. This has turned into a mess that nobody voted for and it's only going to get worse.
"A choice between a no-deal Brexit and a no-clue Brexit is no choice at all. Only a People's Vote offers the UK a real choice over our future."